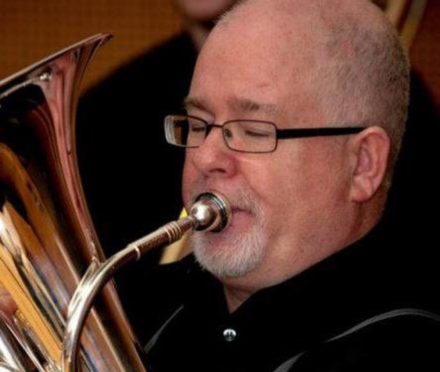 A Fife brass band leader and teacher who used an lewd hand gesture in front of youngsters and made inappropriate contact with a pupil has been formally reprimanded by an education regulator.
George Cameron, who was a teacher at a Stirling school for almost three decades and is a prominent euphonium player with the award-winning Lochgelly Brass Band, was found guilty of breaching the General Teaching Council for Scotland's Code of Professionalism and Conduct by a three-person Fitness to Teach Panel.
The panel found allegations proved against Mr Cameron included using an inappropriate hand gesture in front of pupils on or around June 2014, making inappropriate contact with a girl by hugging her between January and August 2017 and making inappropriate contact with the same pupil by private messenger on Facebook between the same dates.
The first incident took place during an S2 chemistry session after a school trip to battlefields in Belgium, where a teacher had developed a "bonding salute" for those who had gone.
The panel heard the particular teacher was in the class discussing the trip before Mr Cameron entered, and he detected a "carry on" going on in the class.
He then asked one of the pupils he recognised in the class what the pupil would do if someone did this and, at the same time as posing the question, Mr Cameron put his middle finger up.
Mr Cameron admitted the conduct at a disciplinary hearing but stressed the conduct had been "intended to be jocular and had not offended nor affected any pupil".
The panel heard Mr Cameron faced separate disciplinary procedures after allegedly "hugging" a pupil who had gone to the Pupil Support Room due to being upset.
The girl said Mr Cameron had "cuddled her", and a fellow pupil said she had witnessed the incident which made her feel "weird and uncomfortable".
Mr Cameron denied giving the pupil a cuddle but accepted he put his arm around her.
The same pupil alleged Mr Cameron had messaged her via Facebook Messenger and that she had been uncomfortable with a member of staff contacting her on her private Facebook page on a Saturday night.
Mr Cameron admitted sending the message but said he was supporting her as she lacked self-esteem and had issues affecting her education.
He also said he had messaged her "out of compassion" but immediately realised contacting her in that way was not a good thing to do.
The panel ruled a maximum reprimand of two years was the most appropriate sanction in the circumstances and that Mr Cameron's conduct "did not constitute an abuse of a position of trust".
Mr Cameron also faced allegations suggesting he had told pupils how to tell if someone fancies them and, in this context, asked them to stare into his eyes to test their pupil dilation; and also poured liquid from a bottle contained in his fridge which bore an alcoholic branding label and consumed the liquid in front of an S2 class.
These were found not to be proved, as were further claims that he had made inappropriate comments to a pupil by calling her "pretty" and "attractive"; and referring to male pupil inappropriately by calling him a "lanky b*****d".
Mr Cameron has since resigned from the local authority.