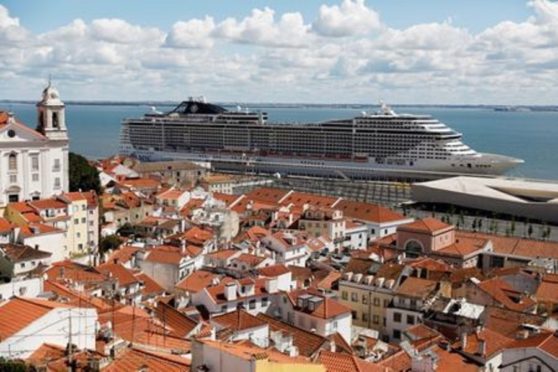 Four Fifers are finally making their way home after being stuck on a cruise ship off the coast of Portugal for several days.
Nichola Beveridge, from Dunfermline, and three others in her party are among more than a dozen Scots who have been on the MSC Fantasia, which has been docked at the country's capital Lisbon since the weekend.
They feared they might not be able to get back to the UK after the ship was placed on lockdown on Monday when a fellow passenger tested positive for coronavirus.
However, the Portuguese interior ministry has confirmed that 1,140 of the 1,299 people on board from the EU, the UK, Brazil and Australia are free to go. They were due to be flown home on Tuesday on repatriation flights.
Authorities in Portugal initially said all passengers would have to remain until they had been tested for the virus but only the Portuguese passengers ended up getting the test, health authorities said.
Speaking to Kingdom FM, Ms Beveridge said: "No one has been able to get off the cruise ship, except for Portuguese nationals.
"We all live in Dunfermline, two of us are under 50s and two of us are over 70s, and it's been business as usual really.
"We can eat and drink, although the entertainment has now gone off as of Sunday night. We've been able to eat meals together in the buffet dining room, get to the bar, order alcoholic drinks and normal drinks, but the ship put on the last show on Sunday night.
"The ship has been very, very, very quiet with information, and most of the information we've been looking up on Google."
Flights returning to the UK are understood to be arriving via London Gatwick and London Heathrow, although there have been concerns about groups of travellers being split up.
Thirty-nine Portuguese citizens and residency permit holders were given the green light to disembark on Monday, and repatriation flights were due to take off throughout the day from Lisbon to Germany, Brazil and the United Kingdom.
The interior ministry said: "As planned, these citizens will leave the ship and be escorted to Humberto Delgado airport in Lisbon for flights back to their countries of origin."
The final destination of the ship, which left Rio de Janeiro on March 9 and is capable of carrying 4,363 passengers and 1,370 crew, had been Genoa in Italy, the European country worst affected by the virus.