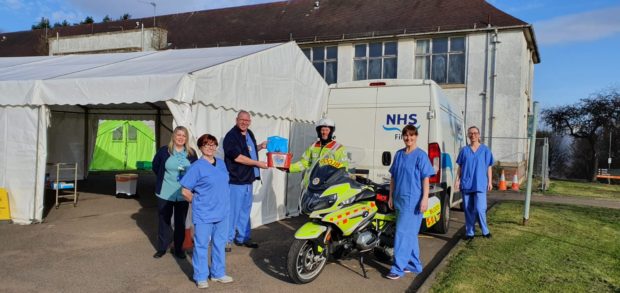 Volunteers from life-saving charity Blood Bikes Scotland are proving invaluable in the fight against coronavirus in Fife.
The group, which normally transports urgent blood samples, medicines, documents and equipment for the NHS, has turned its attention to speeding up the covid-19 testing process in the region.
As the pandemic continues to spread, Blood Bikes volunteers are providing shuttle runs between the NHS Fife testing centre at Cameron Hospital in Windygates, and the labs at Victoria Hospital in Kirkcaldy.
They are also providing evening cover for the community hub at Victoria for patients with coronavirus symptoms who do not need hospital treatment, all while continuing their day-to-day work.
The bikers also have the use of a car, sponsored by personal injury firm Watermans Solicitors.
Volunteers have covered 450 urgent jobs in the last month alone but have warned their work could be hit without donations from the public.
Charity chairman John Baxter said he was working harder than ever before.
"Two of the additional shifts in Fife are directly covid-19 related," he said.
"One is providing shuttle runs between Cameron Hospital and the labs at Victoria Hospital.
"As we are able to offer this in a timely manner, it means the people being tested are likely to get their results back the same day.
"At the moment it is predominantly NHS staff being tested.
"The second service is evening cover for the community hub at Victoria.
"If a patient presents with symptoms but does not require to be hospitalised and can return home, then our role is to deliver necessary medication to their home address."
More than 100 volunteers currently operate the charity, saving the NHS money it would otherwise have to spend on taxis or couriers.
They are now appealing for donations from the public to allow them to ramp up their services.
"Most months we do two or three collections outside the big supermarkets and other fundraising or sponsored events, but obviously this element of fundraising has had to stop completely," said John.
"We look to those efforts to primarily cover our running costs, which are around £3,500 every month.
"We have a real gap at the moment and this will have an impact on our ability to operate."
Anyone who can help should visit www.bloodbikesscotland.co.uk or facebook.com/bloodbikesscotland