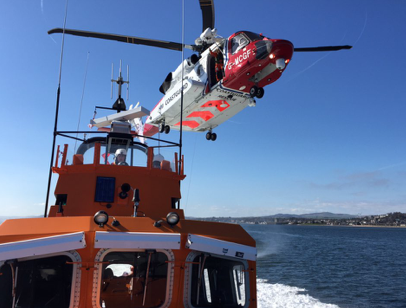 Members of the public have been warned to steer clear of the sea for their state-sanctioned exercise after a large scale search for a swimmer off the coast of Fife.
The Rescue 199 search and rescue helicopter was summoned from Prestwick after the Coastguard was alerted to a report of a person in the water just off St Andrews East Sands on Saturday evening.
Both Broughty Ferry RNLI lifeboats, the in-shore and the all-weather lifeboats, were called to assist, as were the Dundee and St Andrews Coastguard rescue teams, amid fears the swimmer seen entering the water had not been seen getting out.
A near four-hour search of the area and coastline was carried out, but the emergency services were stood down at just before 9.15pm after no one was found.
A spokesperson for HM Coastguard confirmed the call had likely been a false alarm with good intent.
Police Scotland said there had been no reports of anyone missing at the time of the call-out.
However, the emergency services have warned people against taking to the water at present.
"The RNLI appreciates that during these unprecedented times things can be difficult," a spokesperson for the RNLI said.
"However, to get through this, we must follow the governments' advice and understand current exercise guidelines.
"For the time being watersports of any kind are not a suggested form of outside activity."