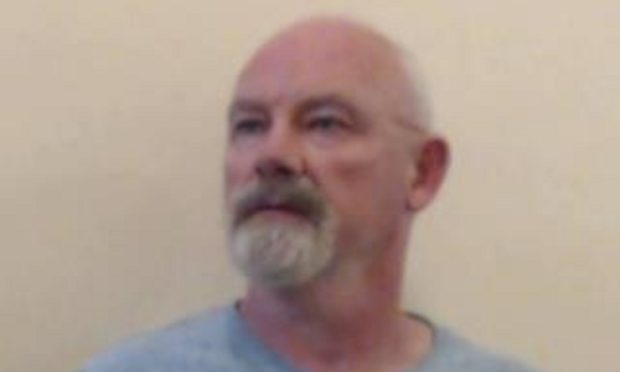 A domestic abuser jailed for attempting to stab his ex-wife made a terrifying 15-minute phone call from prison threatening that she would "get what's coming to her" when he was released, a court has heard.
Kevin Skelton, 55, was imprisoned for 18 months in November for a series of offences against his ex-wife, including repeatedly striking her with a walking stick and attempting to stab her.
The catalogue of abuse also included an incident in which he stood, sharpening knives and trying to force entry, at the door of a room where she had barricaded herself in.
The convictions led to him becoming the first person in Fife to be imprisoned under the Domestic Abuse (Scotland) Act 2018. With time off for good behaviour, and backdating for time served on remand, Skelton, of Dunfermline, was released on April 3.
But on March 22, less than two weeks before he was released, he made a series of threats about his ex-wife in the phone call to his daughter, which she answered while she and her mum were on a shopping trip, the court was told.
Prosecutor Katherine Fraser said: "This offence occurred while the accused was in Her Majesty's Prison in Perth serving a sentence.
"He had previously been with his ex-wife for 29 years.
"There had been disputes between them about retrieval of property, and she feared that he would attend the matrimonial home and kill her once he was released from prison.
"He had been in prison for around nine months, having been sentenced to 18 months for attempting to stab her."
Jail for Fife man who subjected victim to 'controlling, intimidating and abusive' behaviour
Ms Fraser said that about 3pm, while Skelton's daughter and her mother were at the Halbeath Retail Park, Skelton phoned his daughter from prison, "ranting and raving" that he was going to be homeless on his release.
Skelton said about his victim: "She'll get what's coming to her.
"She'll pay for this. You'll see what happens then."
Ms Fraser said Skelton's daughter was "very worried and visibly upset, given the background".
She said: "She feared he'd act on his words."
Upon hearing the full content of the conversation – which lasted 15 minutes and seven seconds – his ex-wife contacted police and Skelton was charged on April 3 on his release.
At Falkirk Sheriff Court on Friday, Skelton, now of Bank Place, Leslie, pled guilty to making the threatening phone call, contrary to the Communications Act 2003.
Solicitor-advocate Steven Biggam, defending, said Skelton had "neurological conditions".
Skelton refused to comply with an assessment for a restriction of liberty order and a restricted movement order.
Sheriff Derek Livingston jailed him for eight months.
The Scottish Prison Service did not respond to a request for comment on how Skelton was able to make the call.