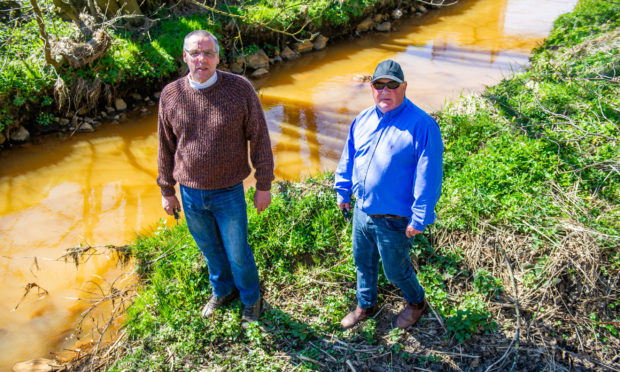 Scotland's environment watchdog is investigating pollution affecting the River Leven amid fears it could kill the salmon population and impact on the wider ecology.
The Scottish Environment Protection Agency (Sepa) believes the toxic orange discharge further up the waterway is caused by old coal mine workings and may originate from the former Westfield site near Cardenden.
They warned the problem could get worse if the prolonged dry weather continues over the coming weeks.
Anglers claim the ferrous pollution is likely to cause considerable damage to water life over several miles of river and have called for urgent action.
The fears come as authorities prepare to invest several thousands of pounds to transform the river into an attractive tourism destination as part of the River Leven Programme.
Brian McGlashan, vice chairman of the River Leven Angling Club, said pollution from former mine works had been an ongoing problem  but was now worse than ever, despite a previous Sepa investigation in 2011.
His own investigations have revealed the orange colour begins at the Lochty Burn, just outside Kinglassie, and becomes dirtier as it continues downstream.
The Lochty runs into the River Ore at Thornton, which in turn leads into the River Leven.
"There's not one invertebrate in the Lochty just now and that's what's going to happen in the River Leven if nothing is done," Mr McGlashan said.
"We've already noticed we're not getting any salmon.
"Five years ago we had 50 to 60 salmon to our own rods. Last year it was zero."
He said there was little point in investing in the Leven unless the problem was tackled at source.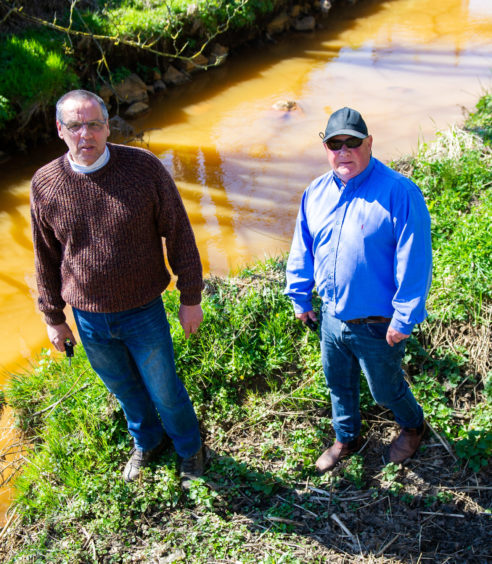 Kirkcaldy SNP MSP David Torrance said the damage to water life was already considerable.
"Clearly the problem is not new but nine years later it has not been remedied," he said.
"This is extremely disappointing and completely unacceptable.
"The Levenmouth area is benefitting from significant amounts of public investment in relation to the rail link being reopened and the creation of a riverside walk.
"It is crucial for the natural environment there and all along the river system to be protected."
Sepa said it took reports of pollution very seriously.
A spokesman said: "A sustained period of dry weather could result in further reductions in river flows and increased mine water impacts over the coming weeks, and over a sustained period of time iron could have an impact on the ecology of the river."
He said comprehensive monitoring was being done and a sustainable solution sought.
"We are working with other partners, including Fife Council and the landowners, to resolve these impacts," he said.
Sepa has urged the community to continue to report incidents of pollution online at www.sepa.org.uk/report