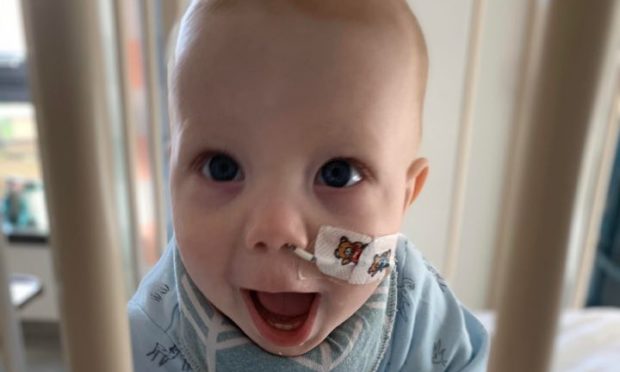 A mother who feared her baby had coronavirus has praised medical staff who aided him and urged parents not to be scared to go to hospital.
Teacher, Ali Martin was advised to take nine-month-old son Luca to the Covid-19 Assessment Centre at Kirkcaldy's Victoria Hospital when his high temperature persisted.
The tot had been seen by a GP at the family's surgery in Dunfermline and was thought to have a cold but when his condition did not improve, Ali phoned NHS 24 and was told he should be tested for the virus.
On the journey to hospital she feared the worst for Luca who was listless, unsettled and breathing faster than normal.
She said: "The nurses in the Covid centre were fantastic.
"I was shaking and teary but they reassured me and helped me get a mask on and held Luca so I could get organised before we entered the building.
"They could see I was upset and just got it."
Ali and Luca were transferred by patient ambulance to the hospital's red zone, where patients with coronavirus are cared for.
She said: "The nurses and doctors we saw were so friendly, kind and reassuring. They really did just get how I was feeling – alone on the ward with a sick child, potentially with Covid.
"Not once was anything too much trouble."
Thankfully, Luca was found to be Covid-negative and, after being rehydrated, is recovering from his illness.
Ali described the episode as the worst 24 hours of her life but wanted to highlight the high standard of care he received.
She said: "I'm so glad that there are so many fantastic people working in our NHS.
"They are putting others before themselves on the front line to help us all.
"Not once did anyone shy away from going near Luca despite him being possible Covid positive."
She urged other parents not to be afraid to take children to their GP or hospital if they need medical attention.
She said: "It was scary, I'm not going to lie, but the staff are amazing in what is a scary time for everyone.
"They are doing their upmost to keep everyone safe."