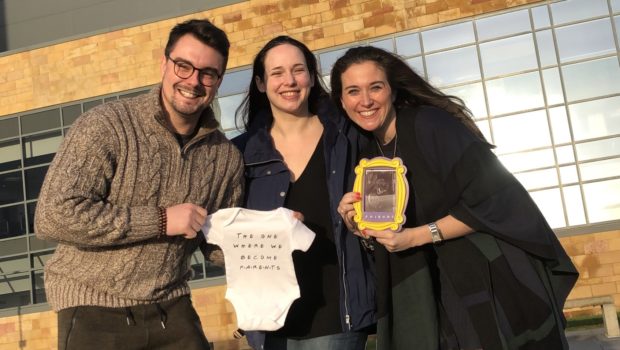 Fife parents-to-be whose baby is being carried by a surrogate may be prevented from attending her birth.
Olivia and Sam Rowlands, from St Andrews, are expecting a baby girl in July.
Because of the coronavirus lockdown they have already missed some key moments in their daughter's development, able to keep in touch with Ellie Hutchinson, who is carrying her, only by video, phone and text messages.
Unless restrictions are lifted before she is born, Olivia, 31, and Sam, 30, also fear they may be barred from attending their daughter's birth by Caesarean section.
Olivia's womb was damaged by cancer treatment, which also resulted in early menopause, but before it began she had four embryos frozen at Ninewells Hospital, in Dundee.
Ellie, 34, Olivia's cousin who she hadn't seen since she was a toddler, got in touch after the primary school teacher and Sam, a gym owner, appealed for a surrogate to carry their child.
Before lockdown Olivia and Sam had spent time and attended appointments with Ellie, from Stirling, to share precious moments in their baby's progress and let her hear their voices from the womb.
Olivia said: "We have been keeping in touch with video and texts, and seeing what size she is.
"Obviously, we can't go to appointments, which is rubbish. We missed hearing her heartbeat and next week we will miss the 28-week scan.
"We are also going to miss the appointment with the consultant about the Ceaserean section where we would have found out the date, about the process and who can attend.
"It's a complicated enough process without coronavirus."
The couple are eager to be at the birth of their child, and hope that in three months' time restrictions won't prevent that.
Olivia said: "Normally only one person would be allowed in theatre at the birth but this isn't a normal situation and we were going to speak to the consultant at the appointment.
"That will no longer happen so we just don't know if it's going to be possible."
Olivia added: "When the baby is born Ellie will legally be the mum but we have everything in place so that we will take her home. As long as coronavirus doesn't stop that."
Having already beaten bowel cancer, given the all-clear in August 2018, Olivia said she and Sam were remaining upbeat and excited about impending parenthood.
Whatever they miss out on during the pregnancy and birth, she said, they will have their daughter for life.
She said: "We've been shopping like crazy, we have loads of stuff. We have the pram which we are keeping at my mum and dad's just now.
"We are in constant contact with Ellie but I do have my days where I wish I was carrying her or that we could see her and let our little girl hear our voices.
"Mostly I'm pretty positive, I know it's the right thing to do.  The rules are there for a reason and we are keeping them safe."