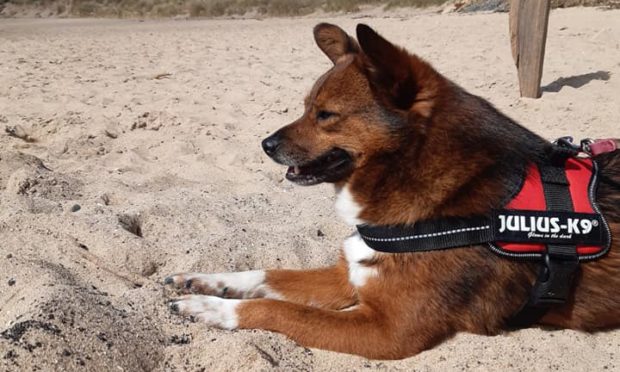 A street dog saved from death row in Romania in the nick of time is thriving in his new home in Fife.
Ruben was just 14 days from being euthanised and was one of the last dogs transported out of the country by a rescue squad before lockdown restrictions.
He is now relishing his new life and growing in confidence with Mel Thomson and her family in Kinghorn.
The former stray spent a year in a barren shelter, after three years surviving on the streets, before he was adopted by Mel through Pawprints to Freedom.
Just two weeks after he was taken to the UK the non-profit group suspended its transport to protect volunteers.
Mel said: "He arrived just in the nick of the time for me, but more importantly for him."
Ruben, thought to be between four and five years old, now lives with Mel, her children Ellie, 7, and Casey, 3, and their menagerie of rescued pets, miniature Yorkshire terrier Summer, 15 rabbits, three guinea pigs, a hamster and two gerbils.
When he arrived in February after a three-day van journey he was scared, hungry and filthy, frightened to set foot outside, and refusing to wear a collar. He had never played with a toy.
The street-smart pooch was house-trained in a couple of days and has learned to obey several commands in English.
Pawprints for Freedom ensured Ruben was suitable to live with a young family before the adoption was approved.
Mel said: "Because I have the kids and the rabbits people thought I was mad getting a street dog, a stray, but all he needed was love."
Romania has a large population of stray canines and in attempt to control numbers some are rounded up by dog catchers and placed in shelters.
The animals are often kept in cramped and appalling conditions, in freezing temperatures without adequate food and water.
Some are killed in dog fights and others culled in full view of the other dogs when the shelters become overcrowded, causing further trauma.
Mel, who runs a dog walking service and boarding for rabbits and guinea pigs, said the change in Ruben in the 11 weeks since he arrived was unbelievable.
She said: "When he was in the shelter his eyes looked sad, it was like he had just given up.
"He is so happy now. He cuddles up with the kids, he has completed this family.
"It just saddens me to think of all the other ones that didn't make it."
Pawprints to Freedom is about to resume transport with special measures in place and posts photographs of dogs in need of rescue on its Facebook page.