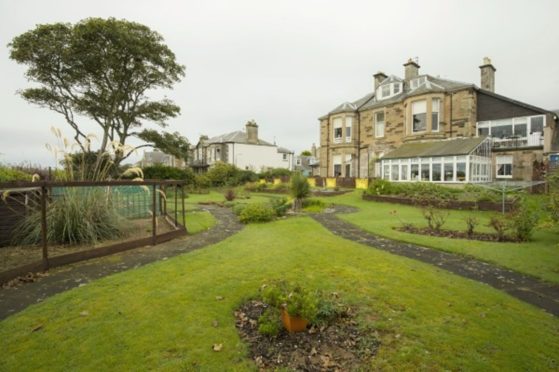 Residents at a private care home in a Fife coastal village have tested positive for coronavirus.
News of the outbreak at Earlsferry House Care Home, which overlooks the beach at Elie, emerged just a day after operators of Scoonie House – just nine miles away in Leven – revealed two of 16 elderly residents there who tested positive for Covid-19 had died.
EXCLUSIVE: Two dead among 16 positive cases in Fife care home coronavirus outbreak
It is believed up to five residents at Earlsferry House have tested positive, although home operator Belsize Healthcare has so far declined to comment on those numbers.
However, Kristin Jackson-Brown, regional director, has confirmed in a letter to residents and relatives  the home has "now experienced Covid-19".
"We wish to reassure you all the necessary measures are in place to keep you, your relative or friend safe and you and they remain our priority," she wrote.
"It is important for us all to recognise our staff have very much been on the frontline when caring for your loved ones and we are continually looking at how we can support them during these unprecedented times.
"As in any situation, where one of your loved ones becomes unwell, we will maintain clear and comprehensive dialogue with families, whilst taking advice and following guidance from their GP and other health care professionals.
"We continue to follow all Government and Health Protection guidance and advice in order to effectively care and support you, your relative or friend where they either are experiencing signs and symptoms of Covid-19 or where they have been tested positive for the virus.
"Anyone who is either suspected or tested positive with the virus will either be hospitalised following advice from the Health Protection teams and a hospital consultant or cared for within the home."
The letter also stressed the home's "skilled and knowledgeable" staff are all trained in safe infection, prevention and control procedures in order to reduce further spread of the virus, and are equipped with the appropriate and necessary equipment and personal protective equipment (PPE).
The home offers nursing care for older people, people with dementia and respite care on a bed availability basis.
It provides accommodation on two floors and has 26 rooms, 17 with en-suite facilities.
Independent councillor Linda Holt, whose East Neuk and Landward ward covers Earlsferry House, has been frustrated with the lack of information from authorities as the pandemic develops.
"Care homes are now in the eye of the Covid storm, and the time for banal reassurance while hiding behind data protection is well and truly past," she said.
"We are all making major sacrifices to combat the pandemic and in return we expect the authorities to be straight with us.
"Nothing but full transparency about what is going on in our care homes is acceptable.
"Had we had that in the last six weeks, we would not now be in a situation where care homes are hotbeds for infection and effective death traps."