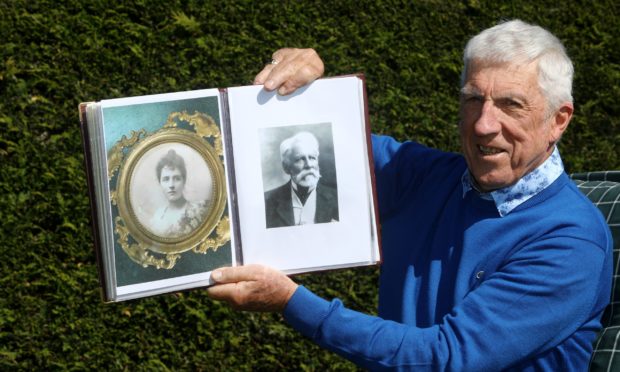 Further to The Courier's February feature on Captain Frederick Lewis Maitland, Ladybank Golf Club historian Bob Drummond shares the remarkable story of Maitland's Madeiran body-servant, Emanuel Soues.
Born in Madeira on February 2, 1792, Emanuel Soues (originally de Sousa) enlisted in the British Navy aged 13 and took part, possibly as a powder monkey, in actions at the Cape of Good Hope in 1805.
Soon after, he joined Rankeilour-born Captain Frederick Lewis Maitland and by 1815, aged 23, he was serving on HMS Bellerephon as Maitland's personal steward.
Blocked from escape after Waterloo, Napoleon surrendered to Captain Maitland and sailed to Plymouth.
During the three-week sojourn, Maitland treated Napoleon with every respect, allocating his own cabin to the Emperor, along with the services of his personal steward.
During the voyage, Soues was the only member of the crew allowed free access to Napoleon's cabin at any time.
Soues later recalled that at some times Napoleon spoke freely and cheerfully while at other times he was withdrawn and quiet, suggesting periods of depression.
At his transfer from Bellerephon, Napoleon left a gift of 20 Napoleons (400 francs) for Emanuel as a mark of gratitude for his service.
After Waterloo, the British Navy was wound down, and in 1820 Captain Maitland's enforced furlough enabled him to spend time and funds upgrading his estate at Lindores in Fife, accompanied by his faithful steward.
Soues integrated locally and in 1826 he married a Cupar girl called Martha Millie, the couple having four sons before Soues followed Rear-Admiral Maitland to his posting as Far East Commander-in-Chief in 1837, two years before Maitland died there at the age of 62.
When Soues returned to Lindores with the grieving Lady Catherine, he devoted his life to serving her as Butler to her household but also at this time, aged 51, he fathered a daughter, Catherine Maitland Soues.
Soues appears in all the available Abdie Censuses and in his last entry in 1871, six years after Lady Maitland's death, Soues is listed as alone in a private house in Lindores estate, widower, aged 80, born Madeira, Sailor in the Navy, Steward of the Bellerephon at taking of Napoleon 1.
Eight years after Lady Maitland's death, Emanuel himself died on April 22 1873 at Lindores, listed as 84 though he probably was only 81, cause of death 'Debility and Old Age', the informant being his son, H J Soues.
Emanuel was buried among the Maitlands in the old Abdie Church and his stone sits amidst the family he served so well.
The adventurous travelling genes did not die with Emanuel, and his four children who survived into adulthood all led interesting lives.
The oldest, Henry John, a world-travelling RN engineer, married in 1865 in London a Maria Conner, who was the niece of Lady Maitland, and a regular visitor to Lindores where she must have exchanged flirtatious glances with the butler's son, Henry John.
No meaningful upstairs/downstairs romance could have been possible while Lady Maitland was alive, but six months after she died, the couple were married.
They set up home in Ladybank, with no children born to the marriage.
Second son Frederick emigrated to Canada, married an Irish girl and worked as a Government agent in British Columbia.
While there, he met an enterprising businessman, FW Foster, who confided in Frederick that he would like to marry but could not find a suitable non-indigenous girl.
This gave Frederick an idea and he wrote home to his young sister, Catherine.
Third surviving son was Emanuel who trained as a gardener at Lindores before emigrating to Australia where he worked in the Melbourne Botanical Garden.
Emanuel is believed to have two surviving descendants in Australia, John Anthony North and Susan Jane North, but neither great-grandchild has yet been located.
Finally, Catherine Maitland Soues, Emanuel's only daughter, who almost certainly was quasi-adopted by childless widow Lady Maitland and trained in the qualities required by a poised young lady of the time.
She was very well educated and at the age of 17 was already living independently in Abdie, working as a teacher of English which probably resulted from service as a pupil-teacher.
In 1868 she received a letter from brother Frederick in British Columbia containing the marriage proposal from FW Foster.
Without demur she packed up and sailed round Cape Horn to Victoria, carrying with her a little photograph of Lady Maitland and a mourning brooch containing her patroness Lady Maitland's hair.
Catherine's intended husband, Exeter-born FW Foster, was a pharmacist and metallurgist before emigrating to Australia to assay gold for the Bank of England.
He then decided to purchase a small Galapagos Island in order to harvest its guano and consequently travelled to Peru to negotiate the contract.
While there he found himself shanghaied by an unscrupulous captain, and next touched land in San Francisco, where rumours were rife of the gold strikes in Cariboo, British Columbia.
FW made his way there via Victoria, this before Vancouver was established, and settled in Lillooet, opening a store and flour-mill before moving soon afterwards to new premises in Clinton, BC, where his pharmacy background enabled him to act also as community doctor and on occasion midwife.
Catherine and FW hit it off and were wed in Victoria in 1869, before running businesses to service the gold rush, in Clinton and Ashcroft.
They had only one grandson, Peter, but his six children, Catherine's great-grandchildren, are still resident in the area.
To read more on the Maitland family, see The Courier's February Courier feature here.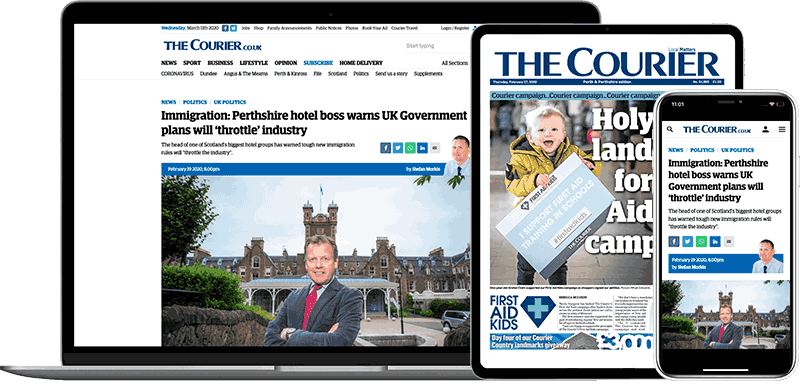 Help support quality local journalism … become a digital subscriber to The Courier
For as little as £5.99 a month you can access all of our content, including Premium articles.
Subscribe