VIDEO: CCTV catches lout on vandalism spree in Glenrothes town centre
Police are calling for the public to help identify a lout caught on CCTV, vandalising shop fronts, businesses and buildings in Glenrothes at the weekend.
Windows, shop signs, and the walls of several buildings along North Street from the former Co-op building through to Fife Council's headquarters in Glenrothes were graffitied on Saturday night.
CCTV video of the vandalism is above this article
The security camera on one shop caught the hooded and masked culprit in the act as they scrawled across the shop sign.
Paint, aerosols and marker pens were used to brandish several premises with the vandal's identifiable mark, known as "tag".
Since news of the vandalism was posted on social media, others have come forward reporting  similar damage on garage doors and properties across the town centre and across the South Parks area of Glenrothes.
The vandalism had been roundly condemned by Glenrothes Labour councillor Altany Craik who branded it "mindless and idiotic".
He said: "Business owners and retailers are already facing unique and very difficult challenges without having to have vandalism of their property to worry about too.
"We all share the town and I know the vast majority of folk will be appalled by such damage.
"Mechanisms are in place to deal with this sort of anti-social behaviour and I would urge anyone who may have witnessed someone carrying out vandalism such as this or know's the individual responsible to come forward."
Police hope the public will be able to identify the graffiti tags, which included BAM77, ESR and LAME and lead them to the culprit.
Inspector Kirk Donnelly, of Glenrothes police station, said: "The number of vandalisms across the town is shocking and has caused a lot of distress to business and our community especially during such a difficult time.
"I am appealing to anyone who may have seen or heard any suspicious activity near the vandalisms to get in touch with police as soon as possible.
"If you were driving in the area around the time and have a dash-cam, I would ask you to check back for any footage that may assist us with our investigation.
"I would also appeal to anyone with domestic CCTV near to the areas affected to get in contact with us.
"If you witness a vandalism, I urge you to contact police on 101 at the time so that we can enquire promptly.
"This disregard for public and private property will not be tolerated in our community and we will investigate these incidents thoroughly."
Anyone with information can contact police on 101, quoting reference number 1052 of May 3. Alternatively, information can be provided anonymously to the independent charity Crimestoppers on 0800 555 111.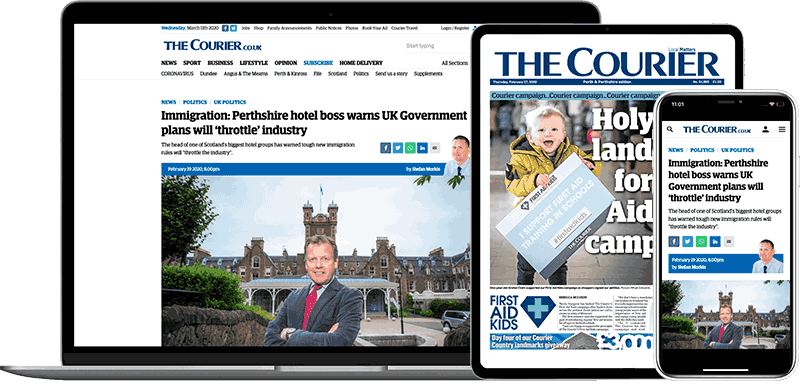 Help support quality local journalism … become a digital subscriber to The Courier
For as little as £5.99 a month you can access all of our content, including Premium articles.
Subscribe