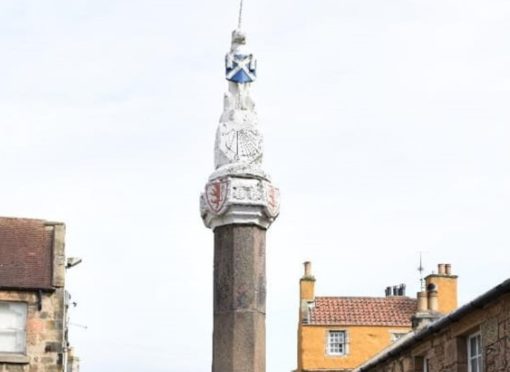 The relocation of a 600 year old Mercat Cross, thought to be one of Scotland's oldest, is to be the focal point of a multi-million pound regeneration package set to promote Inverkiething's ancient heritage.
The historic cross, is to be moved from its current Bank Street location to a more prominent position in the Market Square, as part of a £3.6m, five-year programme of improvements designed to boost tourism in the town.
The Grade-A listed monument's main column and coats of arms are believed to date from 1398 with a unicorn finial carved by John Boyd of South Queensferry and added in 1688.
Improvements to roads and pathways, new seating, street furniture and heritage features will account for the £1.3m first phase of work around the Civic Centre and Market Square making the area more pedestrian and cycle friendly, whilst retaining the current number of car parking spaces through sensitive design.
The work, which has been funded by the National Lottery Heritage Fund, Historic Environment Scotland and Fife Council, was due to be undertaken this summer but put back because of the coronavirus restrictions is now set to start in summer 2021 with the full scheme expected to be completed by March 2024.
The improvements have been warmly welcomed by Invkerkeithing SNP Councillor Councillor Alice McGarry who thinks the potential of town's rich heritage and historical significance had been realised.
She said: "The funding will enable major streetscape uplift in the High street and the Market Square, whilst at the same time protecting and enhancing our built heritage.
"Like many towns today, Inverkeithing has had to contend with a range of negative market forces, like changing shopping habits, likely made worse by the covid-19 crisis.
"To be resilient the town needs to evolve and improve its offer to attract both locals and visitors
"The town's heritage and history is underplayed, but given its location on the Fife Coastal Path and Pilgrims Way, proximity to the Forth Bridges and Edinburgh, and its major transport links, Inverkeithing has the potential for step change through heritage led regeneration, and these improvements can help that to happen."
The public will be given the opportunity to have their say on the design concepts of the improvement scheme in June and July, once more detailed layouts have been drawn up, and COVID-19 restrictions have eased.