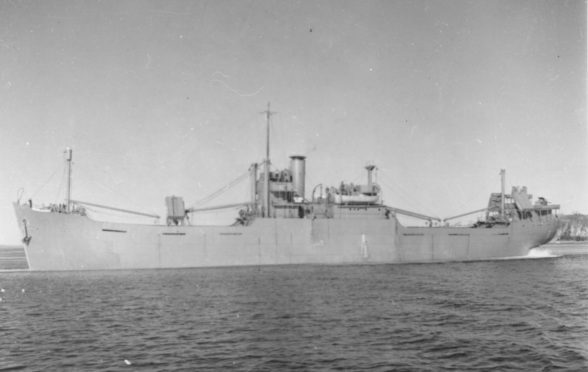 The granddaughter of a North East England merchant navy seaman who was "pointlessly" killed off the Fife coast during the final minutes of the Second World War in Europe has paid tribute to her relative and revealed a tragic twist to the aftermath of his death.
Lynn Harvey revealed that South Shields woman Sarah Harvey, the wife of SS Avondale Park engine room donkeyman William Harvey, was informed that her husband had died as she was putting flags out on VE Day to celebrate the end of the war in Europe.
The local assistant chaplin Eric Newman had the sombre task of breaking the news at a time when the jubilant community, which had already lost so many, thought hostilities were finally over.
Contacting The Courier after reading our VE Day 75th anniversary coverage last week,
Lynn said: "My grandfather was William Harvey who was killed alongside George Anderson the day before VE Day. "His wife received the telegram as she was putting out flags to celebrate the end of the war.
"He left behind six children, three boys and three girls – sadly only one of whom is still alive today and continues to remember VE Day with mixed emotions.
"It is an event that is overlooked, but all his children and grandchildren know the story and have visited the Merchant Navy memorial at Tower Hill where his name is recorded and look forward to seeing the plaque in Anstruther one day."
The Courier told how the SS Avondale Park was the last merchant ship sunk by Germany shortly before the official end of the Second World War – and controversially, three days after a ceasefire had been ordered by German high command.
At 10.40 pm on May 7, 1945, the cargo ship, built in Pictou Nova Scotia, and on passage from Hull to Belfast, was sunk in convoy 1.5 miles south east of the May Isle in the Firth of Forth.
The torpedo was fired by the Type XX111 German submarine U2336 commanded by Kapitanleutnant Emil Klusmeier.
Another torpedo sank the Norwegian ship, Sneland1.
Within minutes, the war in Europe ended.
U2336 was depth charged by the convoy escort, but escaped in the early hours of VE Day, May 8, 1945.
Chief engineer George Anderson and engine room donkeyman William Harvey died when the torpedo struck the Avondale Park's engine room.
On Sneland 1, seven men were killed— Captain Johannes Laegland, Alf Berenson, Tormod Ringstad, Otto Skaugen, Simon Johanson, Nils Konradsen and William Ellis, aged 17, of Hull.
The U-boat commander claimed he never received orders to say a ceasefire had been called.
These were the last sinkings by a U-boat in the Battle of the Atlantic.