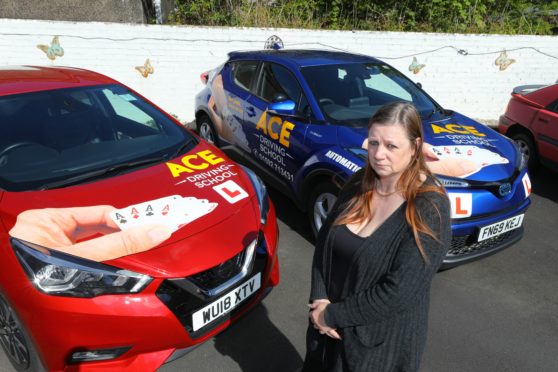 A driving instructor is warning businesses like hers will be driven to the wall during the coronavirus crisis.
Dawn King, from Buckhaven, is self-employed driving and had a thriving business with four cars on the road and more than 100 pupils before Covid-19 struck.
She said many people in her industry were facing ruin because they don't qualify for grants and loans available.
"If I don't get back to work or financial help soon my business will go bust through no fault of my own, and the government are showing no interest in helping," she said.
"Most jobs require a driving licence. Without us driving instructors, half the members of government wouldn't have theirs and yet we will be the first to fold.
"Some businesses with premises are getting grants and loans and able to furlough their staff.
"We are getting none of that. Nothing."
Ms King said she had been told she does not qualify for the furlough scheme as she is self-employed. She is also ruled out of grant schemes for low rate or non-rate payers as she does not operate out of a physical building.
She has looked into the Coronavirus Business Interruption Loan Scheme (CBILS) but was shocked to discover that requires a business bank account, which she does not have as a sole trader. She was also knocked back for a Bounce Back Loan for the same reason.
Grants through the Self-Employment Income Support Scheme (SEISS) are not available as her self-employed turnover for 2018/19 is less than her employment income.
She is currently receiving £375 a month in Universal Credit, she said, and is struggling to pay essential bills let alone any business bills or food.
"No matter what avenue I have explored I just get thrown back – I am desperate to the point where my health and mental health is being severely affected," she said.
"There doesn't seem to be any support out there for us who don't have premises or who haven't been self employed for two or more years.
"Creditors are allowing a two-month payment holiday at most, so from June I will have to somehow start paying all my bills again on top of that I will have the holiday payments to pay."
A spokesperson for the UK Government said a number of measures were being put in place to support self-employed people and HMRC would be contacting those eligible by mid-May.
The spokesperson said it could not "guarantee to protect every business and every household" but insisted the government's economic response aims to be "as comprehensive as possible whilst delivering support as quickly as we can to those who need it".
The Federation of Small Businesses aays it has raised the issue of gaps in support for self-employed with Chancellor Rishi Sunak.