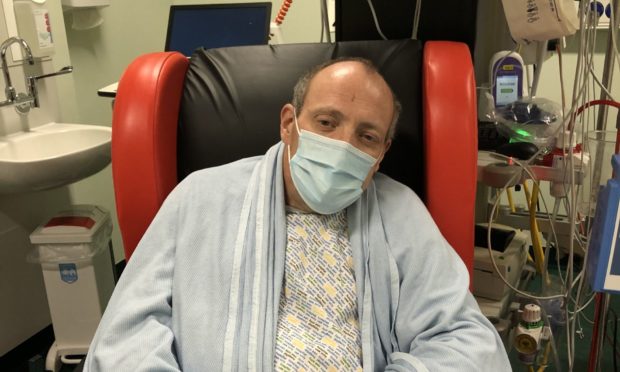 A hospitalised Fife cancer survivor, who has been unable to see his wife and son for six weeks due to the Covid-19 pandemic, has told The Courier how he "shook with anger" when he heard about Dominic Cummings' alleged breach of lockdown rules.
Kevin O Neil, 51, who has been residing in Ward 102 at Edinburgh Royal Infirmary since being admitted with a serious chest infection in the middle of April, said the lockdown rules to Save Lives and Protect the NHS "couldn't have been clearer".
He described the claim by UK Prime Minister Boris Johnson's most senior adviser that he acted reasonably and legally after driving 260 miles from his home to Durham during lockdown as the "most feeble excuse I've heard in my life".
He also accused Mr Cummings and Prime Minister Boris Johnson of "sticking the Vs up" to the people of Britain.
"When I heard about Dominic Cummings I was really angry and was actually at a point where I was shaking with anger," said Kevin, of Inverkeithing, who survived a rare form of cancer in 2015 when he had a tumour the size of a bowling ball removed from his chest.
"It made me really angry and still does when I see him on the TV trying to say everything is alright and at the end of the day he'd do it all again with no remorse or any of that stuff.
"There's millions of people out there who are chomping at the bit to see their loved ones.
"Maybe he used his four-year-old kid as an excuse for child minding. But I'm sorry, it's not an excuse.
"Has he no pals? Has he no family around London? Come on. I think it's the most feeble excuse I've ever heard in my life. I just think with Cummings and Johnson they are sticking the Vs up to every single person in the rest of Britain."
Speaking from hospital, Kevin, who spends around 12 hours per day on a hospital IV line and is not allowed visitors, said he would love to see his wife Kirsty and their seven-year-old son Nathan in the flesh.
But despite it being "really hard" that he potentially faces a further eight weeks in hospital, they all understand the risks of potential cross-contamination and make do with daily chats via Facetime instead.
Kevin, a medically retired area organiser for Unison, has had multiple operations since falling ill with cancer around 12 years ago.
His 2015 operation included the taking out of his rib cage to remove a third of his right shoulder blade, followed by a chest rebuild.
An abscess in his chest is currently being treated with aggressive antibiotics to try and avoid the need for further high risk surgery.
As a patient he's been receiving weekly Covid-19 tests – so far all negative – with strict rules about wearing masks in hospitals. All staff wear PPE.
But all his experiences have underlined the "special place" the NHS has in his life.
"My mum was a nurse, my sister's a senior charge nurse, my sister in law's a nurse, my brother in law is a paramedic – it's got a place in my heart," he added.
"Everyone from the nursing staff, the surgeons, the doctors, the cleaning staff to the tea/coffee staff. They are really brilliant.
"The NHS has saved my life at least four times now.
"I really can't thank them enough for what they do for me and what they are doing for everyone else."