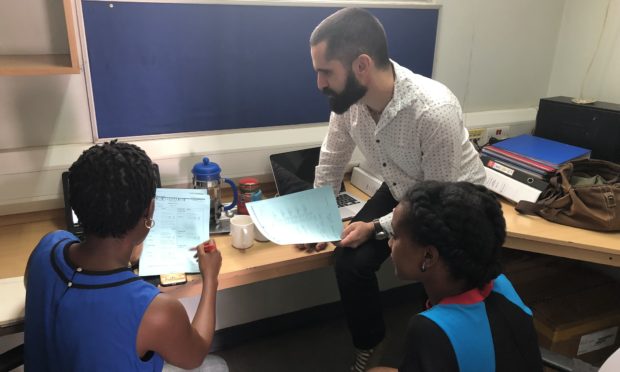 A team led by Fife clinicians and scientists is spearheading a campaign in Uganda to bust myths about Covid-19 and help battle the virus.
Experts from NHS Fife and St Andrews University have created adverts and programmes about the pandemic for broadcast on national television and radio.
In a bid to stop the virus spiralling out of control in the African country, the public information broadcasts aim to dispel conspiracy theories and misinformation.
The Scottish and Ugandan team have gathered contributions from local infectious diseases experts, doctors and researchers in Kampala to encourage people to follow proven, scientific advice to avoid infection.
While Uganda has a strong record in detecting and managing disease outbreaks, the university said the scale of the Covid-19 outbreak in the era of 24-hour communications networks presented new challenges in ensuring public health messages are not overpowered by misinformation.
Dr Derek Sloan, senior lecturer at the School of Medicine and NHS Fife infectious diseases consultant, said: "We have worked with colleagues on the ground in Uganda to tackle TB, HIV and antibiotic resistance for a long time.
"The work we are now undertaking demonstrates the depth of our commitment to, and the strength of our relationship with, our Ugandan colleagues as we re-channel our resources and activities against a new threat.
"We have seen the damage which can be caused by confusion around Covid-19, how it is spread and how to combat this novel virus, and we want to help tackle the problem."
Dr Christopher McKenna, NHS Fife medical director, said: "Building on the long track record of Scottish scientists in life sciences and humanitarian work, we are delighted that members of our team are also working as conscientious global citizens, strengthening the fight against Covid-19 across the world and sharing their learning to benefit people here in Fife."
The Scottish clinicians and experts are involved in Uganda projects as part of the UK Research and Innovation Global Challenges Research Fund.
Christine Sekaggya, research scientist at the Infectious Diseases Institute in Kampala, said: "We really value our association with the University of St Andrews.
"Covid-19 demonstrates to everyone what we already knew – infectious diseases are a global problem and we need to mobilise resources to tackle them together.
"Effective and accurate science communication is a crucial pillar of any epidemic response, so we were delighted to be able to use funding from the GCRF programme in Scotland to speak directly to the population about the risks they currently face and address myths about Covid-19."
To ensure social distancing, the team has also been working with Kampala doctors to protect the delivery of HIV-TB drugs to patients at home.