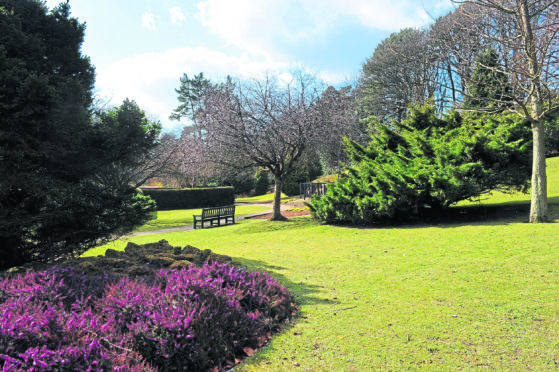 A Fife beauty spot has been blighted by thieves, vandals and fly-tippers during weeks of "lawless" and anti-social behaviour.
Since lockdown began, workers at Silverburn Park in Leven have put up with the theft of plants, trees and logs, people dumping their rubbish, dog fouling, fires left smouldering and vandalism.
They have described the behaviour as "a tragic waste of energy".
Operations manager Martin McDonald said the community is rallying round and matters are beginning to improve but the series of incidents had been disheartening.
"Over recent weeks we've seen the same old issues cropping up: fly tipping, folk emptying rubbish from their cars onto the car park yards away from a bin, a motorbike racing past the cottages at high speed, nappies and dog dirt piled up during lockdown because it was too much trouble to take it away, a fire started on a lawn and then left smouldering.
"For the third time, we have lost valuable plants within days of putting them in the ground.
"People have taken advantage of lockdown by loading their cars with the logs that were meant to earn us an income to improve the park.
"Folk, who are practically our neighbours, in broad daylight, have taken barrow-loads of wood chips to their vegetable plot."
Martin said a member of staff had found youths inside a locked compound chopping up firewood to steal and then found another gang "booting" the gates into a walled garden.
"She said it felt lawless. It must have been scary," he said.
Silverburn is managed by mental health charity Fife Employment Access Trust (FEAT), which is working to reverse years of neglect.
Staff are renovating the walled garden and creating a campside and have already established allotments, opened a cafe and started annual festivals.
Martin said the area had the potential to be a beautiful community space and that regular visitors, appreciative of their work, were coming forward to support the efforts to eradicate bad behaviour.
"The community has rallied round and there has been a really positive reaction to all of this.
"People are offering to volunteer, which is difficult just now due to lockdown, people are keeping an eye out for anti-social behaviour when they are walking and we've had cash donations and donations of trees and plants.
"Previously people would perhaps have put their heads down if they saw something happening but now they are helping us to do something about it."
Staff have now organised a fundraising raffle to boost their efforts, with prizes including a stay in the park's new eco-pods when they open and a portrait by local artist Lesley Mellon.
Details can be found at www.silverburnpark.co.uk