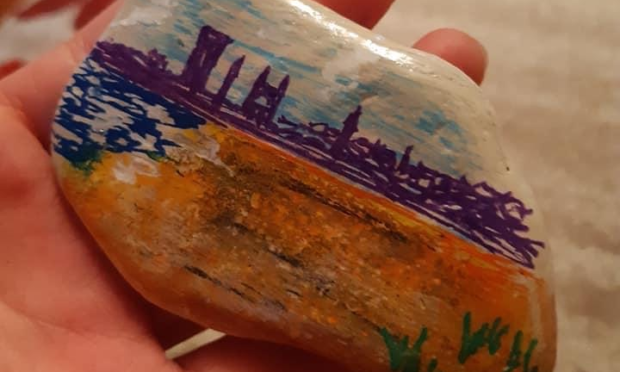 They are the modern day version of placing a message in a bottle.
Paint a rock, hide a rock, find a rock – then spread the word about where it was located.
But a St Andrews woman was surprised and delighted when she got a message telling her one of the stones she'd painted of St Andrews had been found in a junk shop in Romania.
Patricia Anthony, 79, has painted dozens of stones and placed them around town or at the beach for children or anyone else to find.
However, she still doesn't know how one of her creations, featuring a skyline of St Andrews as seen from the beach, came to be half way across Europe.
"Somebody posted on Fife Rocks in Scotland that they had found one of my stones," Patricia told The Courier.
"They didn't know it was mine but when I saw the picture I knew it was mine straight away and realised it had got to Romania."
Born in St Andrews, Patricia left the town at 17 to work with the Post Office in London.
After returning for a short while, she went to work as a psychiatric nurse in Derby where she stayed for 30 years.
She and her late Yorkshireman husband returned to St Andrews around 26 years ago where she has lived since.
However, her daughters still live in Derby and it was her youngest, who is very artistic, that got her into the rock painting hobby.
"She started painting these stones and joined a group called Derbyshire Rocks," Patricia explained.
"When I saw them – I used to do big oil paintings but don't have time now – I thought that would be a nice way to stop me eating!
"I started and hid them round St Andrews – Kinburn, Craigtoun, down by the beach for children to find. I used to stick them in crevasses in the wall along the Scores and if I checked a few days later they'd be gone because somebody's found them!
"The artwork is usually pictures of St Andrews or Peter Rabbit or a ladybird if the rock is the shape of a ladybird. Whatever takes my fancy!
"On the back I write 'Fife Rocks Facebook – please keep or re-hide' and then my initial."
Patricia used to pick stones up off the beach until reading this wasn't allowed. She now picks up random stones when out walking or buys them.
After putting on an undercoat of emulsion, she uses pens or Sharpies to draw a picture then colour it in.
"It's nice if people tell me where they've found one because it shows how far they've travelled," she said.
"But this is the furthest I've ever had anyone find them. I hope they got a decent price!"