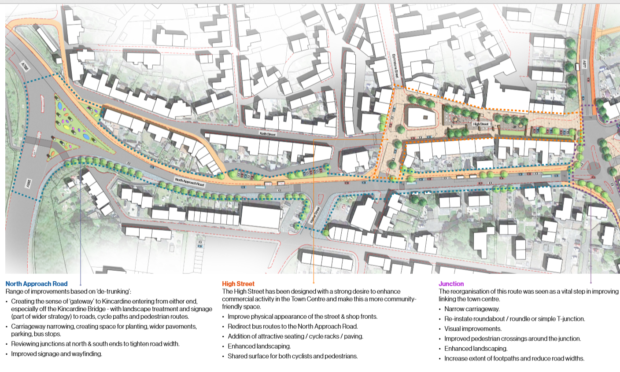 A masterplan to enhance Kincardine and help it recover from the loss of nearby Longannet Power Station has been published.
The blueprint for the west Fife town includes a redesign of the High Street and creation of gateways, including from the Kincardine Bridge.
Those behind the Kincardine, Places for Everyone project want to hear the views of the community before proposals are progressed further.
It was developed from a charrette held locally and boards outlining the aims are on display in the windows of the Coalfields Training and Enterprise Hub in the High Street.
Proposals include narrowing the North Approach Road to allow landscaping and planting.
A redesign of the High Street is planned to enhance commercial activity, with buses redirected to the North Approach Road, improvements to shop fronts and landscaping and a shared cycle and pedestrian path.
At the A977 junction, a roundabout could be reinstated or a simple T-junction created and pedestrian crossings improved.
The Coalfields Regeneration Trust helps mining communities recover from pit closures through health and employment initiatives and the Kincardine project was launched to help recovery from the job losses of Longannet's closure.
Nicky Wilson, who chairs the trustees in Scotland, said: "With our Scottish headquarters in the heart of Kincardine we are obviously keen to see improvements made to the local area.
"Improving accessibility to the town is a priority identified during the Go Forth Kincardine Charrette in 2017 and we would urge the local community to take part in the consultation on the Kincardine, Places for Everyone project."
The trust worked with landscape architects HarrisonStevens, with funding from sustainable transport charity Sustrans.
Mike Harrison, creative director and co-founder of HarrisonStevens, said: "We have engaged with the residents of Kincardine throughout the progress of this project.
"The design proposals for the reimagining of the High Street respond to the wishes of the community.
"We look forward to listening to know if we are getting this right, how the ideas may be improved even further and realising the people first design proposals for a multi-purpose flexible public."
Donald Campbell, chairman of the Go Forth Kincardine group, said: "It's great to give the people of the town of Kincardine the opportunity to take part in the consultation on this really important project."
From June 17 a virtual engagement platform will show images, videos and additional information and allow people to leave feedback.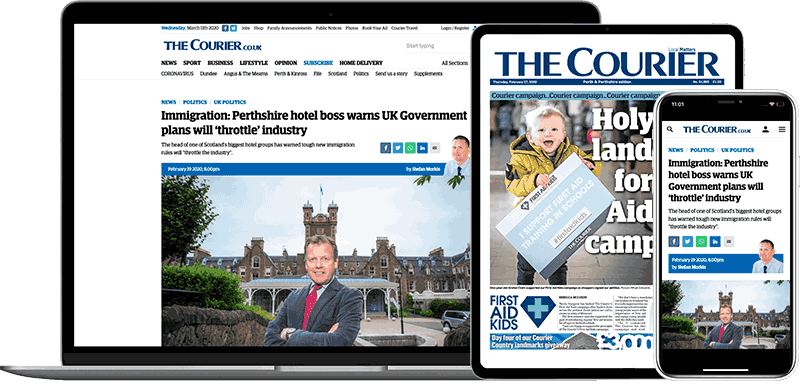 Help support quality local journalism … become a digital subscriber to The Courier
For as little as £5.99 a month you can access all of our content, including Premium articles.
Subscribe