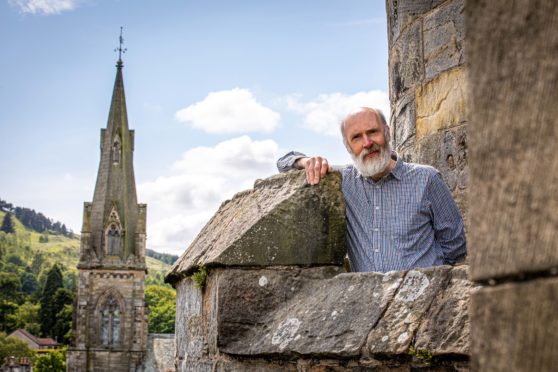 An SOS has been issued for some of Scotland's most cherished historic buildings as the charity which looks after them faces a cash crisis.
The National Trust for Scotland hopes the public will help raise £2.5 million to safeguard the future of its properties which include Falkland Palace, in Fife, JM Barrie's Birthplace, at Kirriemuir, and Culloden battlefield.
Coronavirus lockdown measures have virtually wiped out its income, creating a £28m shortfall this year.
While heritage properties and places will survive, the trust said, public access may not.
The trust faces keeping many properties shut until next year or even 2022 and making more than 400 of its employees redundant.
A revamp of the visitor centre at the House of Dun, in Angus, is among major projects put on hold.
It is hoped the Save Our Scotland campaign will help ensure it can continue to protect the beloved places in its care.
Stuart Maxwell, general manager at the National Trust for Scotland said: "The situation that we're in just now is utterly unprecedented and to be blunt we're in trouble.
"We should be welcoming hundreds of thousands of visitors from around the world to our properties at the moment but we're not.
"At places like Barry Mill, Kellie Castle and Falkland Palace, we're gearing up to get people in to the grounds but we can't yet let anyone inside the buildings.
"That impacts massively on our ability to fund not just the major projects that we had lined up such as Gladstone's Land and House of Dun but the general upkeep of properties beyond the most basic guardianship."
Hereditary keeper of Falkland Palace, Ninian Stuart, said it is important people get behind the trust.
He said: "Falkland Palace has been around for 500 years, it will have had its ups and its downs, but there's something about places where you can really dip into history."
Mr Stuart is helping the palace gardener to tend the grounds during lockdown and said: "There will be huge amounts of goodwill around from people who love this place."
The trust's head of conservation Stuart Brooks said: "Many of the places we care for would continue to exist but that doesn't guarantee people will continue to access, learn and enjoy them in the way they do now.
"That's the value and the purpose of the trust and why Scotland would be a poorer place without the work we do."
Other places cared for by the trust include Crathes Castle, in Aberdeenshire, Inverewe Garden in Wester Ross, Mar Lodge Estate in Braemar and Culzean Castle in Ayrshire.
It also looks after 76,000 hectares of countryside, including Munros, islands and nature reserves.