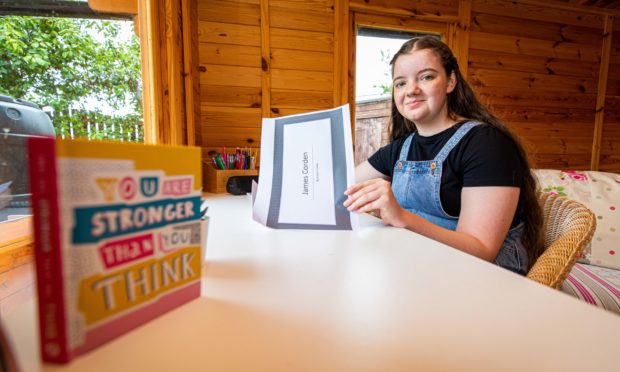 A Fife schoolgirl was elated when a personal message from James Corden praising her assignment dropped into her inbox.
Layla-Cooke, 14, wrote about the BAFTA-winning actor and comedian in an essay on entrepreneurs issued by her business teacher at Auchmuty High School.
When she Tweeted Corden, the host of CBS's The Late Late Show, to show him her work he replied immediately with a direct message.
Layla, from Windygates, was stunned to receive the heartfelt note from her idol, who now lives in Los Angeles and has starred in several films, including as the voice of Peter Rabbit.
Have to say best day of my life was when @JKCorden dropped into my DM box! Very unexpected and he's such a kind man! 💓 https://t.co/h6M4YWWTzA

— Layla-Cooke BSL/ SSE⚘ (@BslCooke) June 18, 2020
The Gavin and Stacey creator told her: "Never in my wildest dreams did I think I would ever be the subject of someone's school project.
"It blows my mind to think this could be happening. Truly."
He also gave words of motivation to Layla and her classmates at the Glenrothes school, urging them to follow their dreams.
Never in my wildest dreams did I think I would ever be the subject of someone's school project."

James Corden
He said: "Do things for the love of it, not the money.
"Do things because they inspire you and might bring joy to someone else.
"And if you try hard enough, you might find yourself the subject of one of Layla-Cooke's school assignments, and that… well that is the highest honour one can ever receive."
Lewis Capaldi
Layla's contact with Corden is far from her first brush with fame, having taught singer-songwriter Lewis Capaldi to perform Happy Birthday in sign language and signing for the Storytime Youtube broadcast by the cast of BBC Scotland's River City.
On her social media feeds, where she raises awareness of British Sign Language, the youngster, who is deaf, has been followed and shared by famous faces including Gail Porter, Eddi Reader and author Jojo Moyes.
Layla is a huge fan of Corden's and said: "I was absolutely gobsmacked that he messaged me.
"For business, we had to pick an entrepreneur and find out facts about them so I chose him."
"I was absolutely gobsmacked that he messaged me.

Layla Cooke
Her mum Suzy said: "Layla was in tears because James Corden is her idol."
Layla said she liked Corden because he appeared to be a kind person and Suzy said: "It proved it when he wrote that beautiful message that he really is a good person."