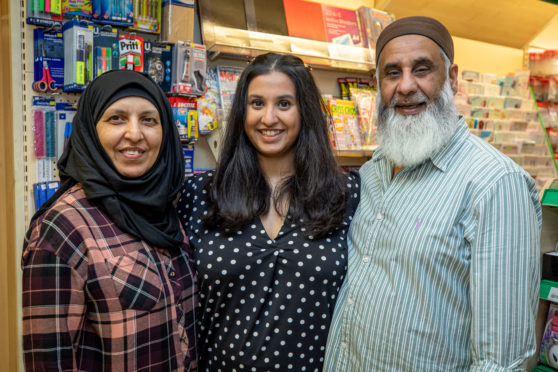 The daughter of a Fife shopkeeper has been given the honour of delivering a live address to the Scottish Parliament, directly from the shop floor of the family business.
Miriam Hussain, a member of the Young Women Lead committee, made the live broadcast to politicians at Holyrood.
She presented the latest recommendations of a study commissioned by the committee into the opportunities for young women transitioning from education to employment.
It is the first time since the annual Scottish Government initiative was established three years ago the committee has been made up entirely of women from ethnic minorities.
Miriam chose to film the presentation from the family's convenience store, which has been a popular fixture on Leslie High Street for nearly 30 years.
She said: "It was a huge honour to be asked to deliver the committee's finding which, because of the ongoing coronavirus lockdown, had to be broadcast by video link.
"I just thought it would be fitting to film it from the shop my parents set up when they arrived in Scotland all those years ago.
"My mum and dad have supported me throughout my life and were so proud when I got involved with the Scottish Government so to do it from their shop, which they have worked so hard to establish and maintain, was a payback to them."
Launched in 2017, Young Women Lead is a programme created in a partnership between the YWCA and the Scottish Government for young women aged 30 and under.
It's main aim is to involve more women under the age of 30 in Scottish politics.
"It's certainly given me a level of empowerment I'd never experienced in my life before, as well as a confidence that the voice of ethnic minorities are being listened to, "said the 30-year-old Napier University employee.
"The committee's convener is Linda Fabiani MSP who has been a huge support and inspiration to all the women involved.
"There is a real sense that people of colour have not had a chance previously to help influence and shape future government policy.
"But with initiatives such as this and the wider groundswell and momentum of the Black Lives Matter campaign, there is a sense that thing are finally beginning to change."
The committee's final recommendations are due to be presented to parliament in October.