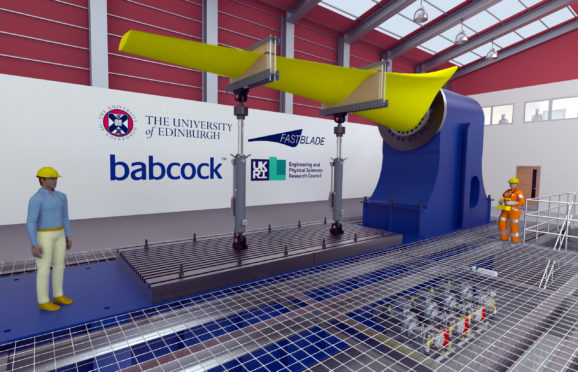 Work is about to start on a multi-million-pound engineering research complex in Rosyth, signalling a huge economic and employment boost for the region as it begins to ease out of lockdown.
The Fastblade plant, the first of its kind in the world, will use pioneering  technology to test new materials in large-scale structures such as tidal blades, plane components and bridge sections.
The £4.1m site has been funded by the Engineering and Physical Sciences Research Council and Edinburgh University, with Babcock appointed as the principal engineering designer.
The centre was first announced last spring, but the announcement that engineering works are getting under way has been hailed by the town's MP, Douglas Chapman.
He said the investment was proof of confidence in Rosyth's future, in uncertain economic times.
A team of Babcock engineers, working within COVID-19 guidelines, will begin construction of FASTBLADE's 75 tonne structural reaction frame early next month, ahead of fitting out the new facility, based at Babcock's Rosyth site.
Initial construction is expected to be complete by December.
Bosses say the scheme will help to put Fife on the world stage as an international centre of innovation in the research and testing of composite materials and structures for a variety of industries such as tidal energy, marine, transport, nuclear and aerospace.
The digital and hydraulic technology systems developed by the university are more energy efficient than existing processes and will simulate real testing environments.
As well as providing a boost to the region with the potential for scores of new jobs, they say the Fastblade site will create a wealth of new opportunities for the next generation of engineers.
Dunfermline and West Fife MP Mr Chapman, the  SNP's Westminster spokesperson for Enterprise and Innovation said it signalled a positive future for Rosyth.
He added: "Many people have an outdated view of Rosyth Dockyard and what they do.
"However investments like this between Babcock plc and the University of Edinburgh point the way to a 'future Rosyth'  where technology and innovation sits at the very heart of opportunities and jobs that highly skilled engineers will bring to the area.
"The start of this £4.1m investment is great news for the West Fife economy and comes at a difficult time for business and jobs.
"Clearly this news is all the more welcome given current circumstances.
"I congratulate Babcock and their partners for just getting on with the project as we look towards the future."
Professor Conchúr Ó Brádaigh, head of Edinburgh University's School of Engineering, said: "This collaboration is a real opportunity to develop the next generation of engineers that industry will need and will be a resource for apprentices and engineering students to capture real-time data from industrial-scale equipment in the classroom."
Fastblade is expected to be fully constructed and operational by the middle of 2021.