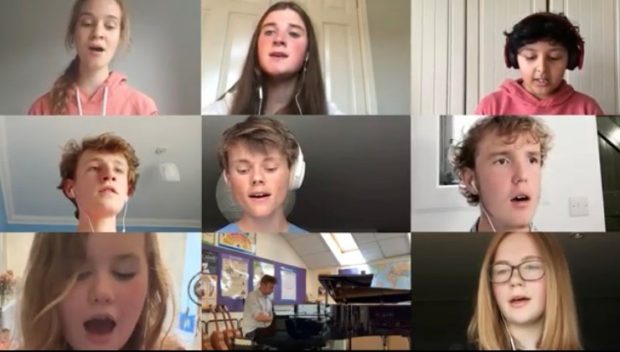 Students at St Leonards School in St Andrews have wowed online audiences with a poignant end of term version of Simon and Garfunkel's iconic track Bridge over Troubled Water.
The youngsters, who have been schooling in lockdown at home, recorded their individual renditions remotely before the track and video was stitched together by a parent.
Music teacher Paul Shiells, who directs the St Leonards Show Choir, told The Courier: "Lockdown has been hard for everyone, but musicians have particularly missed coming together to create music.
"We wanted to give the talented pupils a chance to collaborate from their homes and, when I suggested the project to them, their enthusiasm was very encouraging.
"After some careful planning, pupils quickly began submitting their videos and once I started to mix the audio together I realised it was going to sound great!"
Mr Shiells said he chose this song because of its message of fellowship in hard times. He felt many of the lyrics are particularly poignant right now.
He added: "It also has a special place in my heart as my late father challenged me to learn the piano intro when I was a teenager.
"Playing it now transports me straight back to my living room with him all those years ago."
Mr Shiells said "excellent editing" by St Andrews parent Chris Wallard combined with the beautiful warm sound of the pupils' voices helped create a very special video, which will stand as "a reminder of what we can achieve even when times are tough."
"Hopefully it isn't only me whose eyes well up when the video reaches its climactic third verse!" he added.
Freya Seymour, Year 8: "It was a great opportunity to all get together and do something creative when we aren't allowed to meet in person. The end result was much better than I could have imagined and I'm very proud of how it turned out"
Shreyas Dhasmana, Year 7: "I was absolutely thrilled to contribute. I wondered how it would all be put together and how we would sound as we were all recording on our own and could not see or hear each other.
"It was hard work and so much fun. It was worth it … seeing and hearing the end result was so fantastic.
"I am so proud to be part of the special project, and it shows how we are all part of a strong community within our brilliant school, even when we have been apart."
Chris Wallard added that it was an "absolute joy" to work on the project.