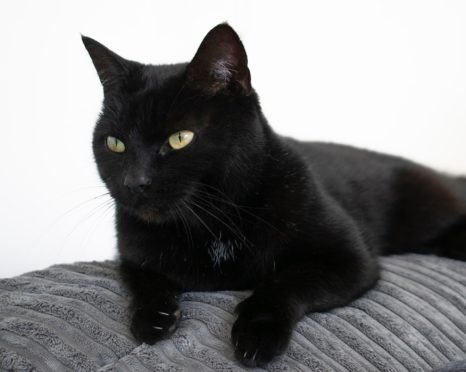 A distraught Fife family has issued a warning to cat owners to remain vigilant after their beloved pet had to be put to sleep after being poisoned.
Rosyth resident Dan Connolly said the family is heartbroken after it was revealed Lola, their pet cat for the past eight years, had almost certainly been poisoned by either anti-freeze or a strong weed killer.
Dan and his wife Shannon want to warn others around the Woodside Street area of Rosyth to keep a close check to see if the poisoning was caused deliberately.
"I first realised there was something amiss on Friday as Lola, who is normally a very affectionate and placid cat, recoiled when I went near her.
"I quickly realised that both her back legs were paralysed so we rushed her to the vet, only then to be given the terrible news that she had been poisoned.
"The cat's kidneys has completely stopped functioning and we were left with no alternative but to take the decision not to prolong her misery.
"The vet informed us that it had been caused by either ingesting anti-freeze or a strong  weed killer."
After returning from the vet, Dan said he searched of the entire area around his home but couldn't find any inkling of where the cat may have ingested the poisonous substance.
"We have a garage at the back of our house and checked with them but the garage owner had kept it spotless and it clearly wasn't from there.
"It's certainly unusual to have anti-freeze out at this time of the year and you only really used weed killer in dry weather and it was wet for the latter part of last week so the prospect of a deliberate poisoning still holds."
Dan is urging other cat and pet owners to remain vigilant and act quickly on any signs of illness.
"We just don't want others to suffer the same fate if it was a malicious act, as like everyone's pets they are part of the family.
"The hardest part had been seeing our son Ailbe asking where his cat is. It's a big loss but how do you explain to a three-year-old?"