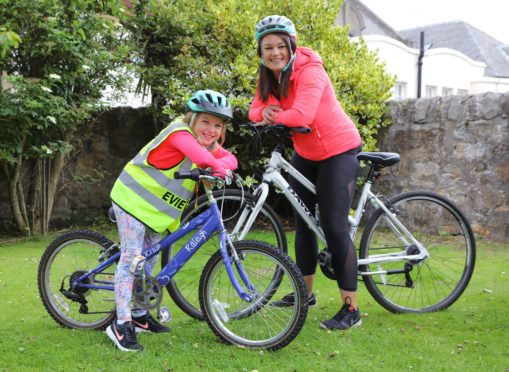 A bicycle-mad youngster from Fife has used pedal power to raise a stack of cash to support of three East Neuk charities.
Evie Hughes, 7, from Pittenween smashed her own target of cycling 100 miles around the streets where she lives in just a month, raising an impressive £2,400 in the process.
The youngster had originally set herself a target of £500 to help East Neuk First Responders, East Neuk Community Emergency Planning Team and Anstruther Foodbank.
However, once word went round of Evie's daily cycle around Balcastie Estate, neighbours were quick to dig deep in support of her charity challenge and bolster the amount raised.
Mum Rachel said Evie had come up with the idea while celebrating her seventh birthday recently and having the stabilisers removed from her bike.
She said: "She set herself an ambitious target of 100 miles but give her her due she stuck to her task every day for a month.
"Once locals knew what she was trying to achieve, people came out to cheer her on every day, even making banners and encouraging her not to give up, which was amazing.
"We set up a just-giving page in the hope of maybe raising £500 to three worthy causes but the money has just come flooding in.
"We also set up a Facebook page which we updated regularly with videos of Evie and letting folk know how she was getting on.
"I'm so proud of what she's done and the money will really help three local organisations that have gone that extra mile to help people during the coronavirus lockdown."
And once she had managed to get her breath back, Evie presented each of the three organisations with £800 to help with running costs.
"These large donations are incredible and will help a huge amount of people in the East Neuk," said Gillian Duncan from East Neuk First Responders, an independent resuscitation charity, working to improve the survival of people who suffer life threatening emergencies in the East Neuk.
"Evie really is a superstar setting herself such a challenge and then raising so much money.
"What she has done is raise vital funding that will save people's lives and and her family should be rightly proud of what she has achieved."