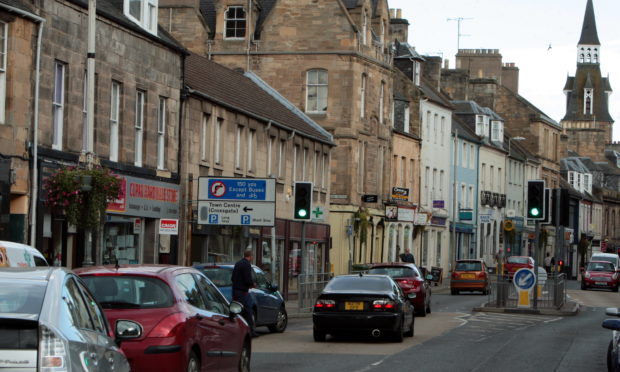 A not-for-profit development organisation that was set up to realise "unmet" improvement opportunities in Cupar has backed calls for the introduction of a 20 mph speed limit throughout the town centre.
Cupar Development Trust, which has discussed traffic problems in the town at many of its meetings, has resolved to contact environmental group Sustainable Cupar to express support for their initiative to reduce the speed limit.
Sustainable Cupar wants the local authority to introduce the speed limit in the town centre, following in the footsteps of Perth and Kinross Council, which made Perth city centre a 20mph zone.
The group has long called for 20mph speed limits on some of the town's main roads, and it believes now is the right time to make those changes.
Cupar Development Trust spokesman Bill Pagan said pedestrian and cycle safety issues have become "more of an issue" through the Covid-19 pandemic.
Social-distancing has been hard to maintain – especially in the narrows of the Bonnygate – where complying with distancing requirements has been extremely dangerous because of traffic passing so close by.
Mr Pagan said: "This has been an issue in the town for many years, but it has become even more of an issue in recent months.
"Social distancing was difficult enough even when the lockdown resulted in reduced levels of traffic.
"Now that traffic levels are returning to normal, the risks to pedestrians in particular, but also to cyclists, are even greater.
"It is appalling to see people faced with the choice of either getting too close to others or stepping off the pavement into the teeth of passing traffic.
"The board of Cupar Development Trust therefore welcomes Sustainable Cupar's call for reduced speed limits, and is encouraged to read of Fife Council's sympathetic response to addressing the issues raised."
The views have been expressed week after Fife Council announced plans to make active travel changes in Cupar, which could affect Bonnygate, Crossgate and St Catherine Street.
Fife Council has said the details of the proposals are under development and will be shared more widely prior to installation.
Short term measures are expected to be implemented by the end of July.
Measures which require more involved designs and liaison are scheduled for implementation by August/early September.