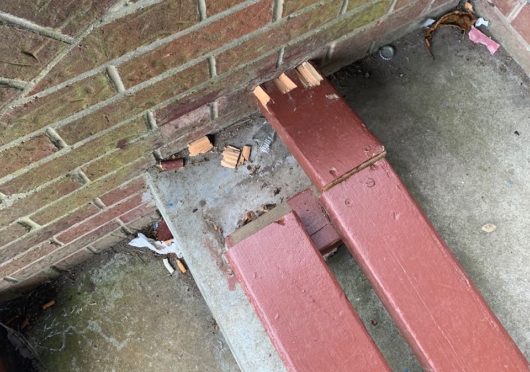 A Fife sports club's preparations for returning to the field post-lockdown have suffered a setback after its home was targeted by vandals over the weekend.
Kirkcaldy Rugby Club officials were shocked when they arrived at their Beveridge Park ground on Monday morning to find thugs had run amok in the main stand and seating areas.
The hooligans smashed seats and tore panels off the roof. The pitch, which is used by more than 200 people of varying ages, from youth teams to senior sides, was also littered with broken glass.
Locals say groups of local youths have been congregating on the club's property – particularly on Friday and Saturday nights.
Volunteers have been working hard to get the ground ready for when contact training can begin, with a return to competitive rugby looming in October.
The latest damage follows a series of incidents in recent years, most notably in 2017 when hundreds of pounds worth of equipment was either broken or hurled into the nearby Beveridge Park pond just hours before the club was due to start its season.
A spokesman for Kirkcaldy Rugby Club said the most recent damage had been reported to Police Scotland who are now investigating.
"Having worked hard over the summer getting the club ready for a return, this is very frustrating," he said.
"This area is used by more than 200 members of the mini and youth teams, along with our senior teams. As we look to return to training shortly, this is frustrating and dangerous.
"Being a community-based club, our ethos is built round teamwork, discipline, commitment, enjoyment and respect. It is frustrating for the volunteers and the club that those choosing to frequent the stand at nights don't uphold the same values."
The incident comes just days after the club took to social media urging people to avoid training, walking and using the pitch for around a fortnight after groundsman Colin Falconer made various pitch improvements, including re-seeding.
Anyone who thinks they can help identify those responsible should contact Police Scotland on 101.