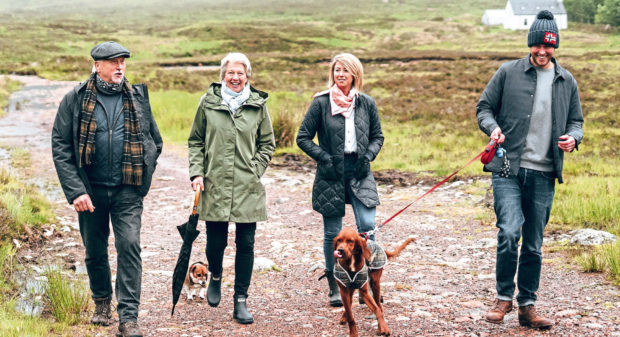 An outdoor clothing shop with branches in tourist towns fears "anti-English rhetoric" will jeopardise the future of the business.
For 35 years, CCW Clothing, which has branches in St Andrews and Callander, near Stirling, and in the West End of Glasgow, has managed to avoid ever having a sale at the shop.
It sells expensive outdoor clothing brands such as Barbour and Patagonia, mostly to tourists visiting Scotland from down south and from Europe.
But founder Liz Geddes fears nationalist rhetoric will put tourists off visiting Scotland and hit the business harder as it tries to recover from months of closure during the coronavirus pandemic.
Liz said: "Some of the rhetoric against the English does not help.
"Our business is built on English and European visitors coming to Scotland and we make them welcome.
"We would not be in business if it were not for the English visitors.
"We are all in this together.
"We need English visitors to come to Scotland and feel welcome."
For the first time ever, they have put a 20% sale on in a bid to shift stock before the seasons change.
The shops have now reopened, but the family business fears that a summer with no tourists lies ahead, amid discussions of border closures and quarantines.
Liz said: "We have a sale at the moment, which we have never done before.
"We need to move that stock out,.
"This is because in another two weeks' time our autumn winter stock starts to come in, which we are committed to."
Her husband, Bill, hopes the reopening of the Scottish tourism industry on July 15, will draw visitors into their shops in St Andrews and Callander.
Bill said: "We are hoping that hotels, restaurants, beer gardens or pubs being open will bring in more people.
"St Andrews is reliant on overseas visitors, but there is nothing in St Andrews.
"It is the same in Callander.
"There is no tourism until the English come, if they can or want to."
The husband and wife team runs CCW alongside daughter Emily and son Ross, who also have senior roles in the business.
Shop assistants wear face masks and carry hand sanitiser and disinfectant, and Perspex screens have been set up along with hand sanitising stations.