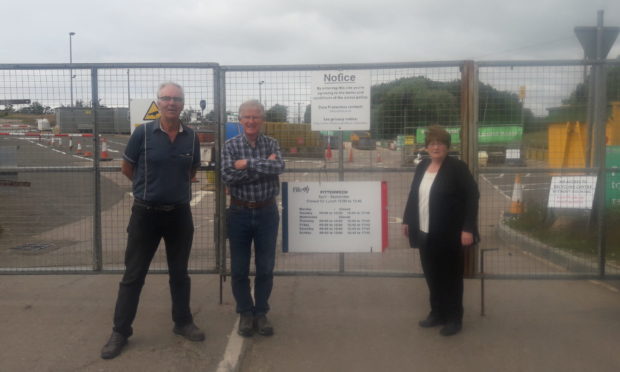 Fife Council has been urged to abandon a "cumbersome" booking system for its recycling centres after a "deplorable" level of uptake in some areas.
More than half of available slots at the nine reopened sites were left unallocated in the two weeks from June 24 due to lack of demand, with fewer than a third of the spaces booked at Pittenweem and Lochgelly.
East neuk communities now claim they are being punished for the low uptake as Fife Resource Solutions (FRS), which runs the centres, plans to cut opening hours at Pittenweem to three days a week to allow the Cupar centre to open on the other two.
Independent councillor Linda Holt said: "The question is why FRS hasn't been better at managing its staff resources instead of making the public pay the price."
The council said the complaints were ill-informed and that the booking system had proven invaluable to ensure social distancing at the centres.
Environment spokesman, SNP councillor Ross Vettraino said: "Those members of the public to whom I have spoken about it have expressed the hope that it will be a permanent feature."
But Ms Holt, backed by two community councils, called for a more flexible approach.
"People without online access cannot use a recycling site because you have to make an appointment in advance," she said.
"The process is almost as cumbersome as catching a plane as you have to keep to a 10-minute slot, print out your booking and bring specific ID with you.
"It is disappointing that the only response to this deplorable level of uptake is for FRS to partially close one facility in order to partially reopen an additional one."
Andy Peddie, chairman of Kilrenny, Anstruther and Cellardyke Community Council, said the partial closure of Pittenweem from next week had been decided without any consultation.
"Recycling is a very important issue for the community and one way to help is to make it easy to do," he said.
"The booking system is making it more difficult so we are campaigning for full opening hours and more flexibility."
Margaret Wardlaw, chairwoman of Pittenweem Community Council, said the community felt strongly that the system should be dropped, particularly as the east neuk reopened to holiday-makers.
"This is a holiday village and people have to be able to dispose of their rubbish before they leave," she said.
Mr Vettraino said as well as ensuring social distancing, bookings allowed the council to look at data and decide the best use of staffing.
He said using the same staff to service two centres was a good example of the flexible approach being asked for and that the level of demand at Pittenweem could easily be accommodated over three days.
"It may be it is thought it would have been better had the Cupar centre remained closed but that's not how the council sees it," he said.