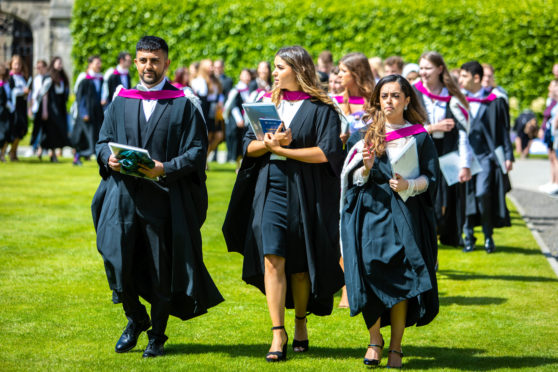 St Andrews University has been named top in the UK for student academic experience, according to the results of the National Student Survey 2020 published today.
It's the 12th time in the past 14 years it has come out on top.
A total of 92.7% of St Andrews' final year students surveyed gave the university top marks for the quality of the learning and teaching experience.
Abertay University in Dundee was ranked in the top three for Scotland with an 89% rating. It was named best in the country for teaching, learning opportunities, academic support, assessment and feedback, organisation and management and student voice.
Vice-principal education (Proctor) Clare Peddie said: "I am delighted by the positive feedback from our student community. This result reflects our commitment to the very highest standards of learning, teaching and student experience."
Dan Marshall, president of the Students' Association, added: "This news is a credit both to the hard work done by the staff at the university, and our unique student community."
The NSS 2020 results follow a strong performance by the university in the recently published Complete University Guide 2021 where it was named Scotland's top university and one of the top three in the UK.
Abertay principal Professor Nigel Seaton said: "I know our staff see it as a privilege to be part of the journey our students take and I am very pleased to see their hard work and dedication reflected in this feedback."