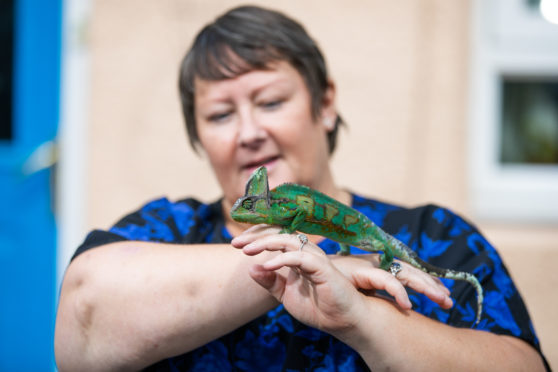 A pet chameleon, which has been "on the run" for almost five weeks, has been re-united with its owner in Fife.
Sharon Muir, has hailed her beloved Igor's return "a miracle" after fearing the worst for the veiled chameleon, which is normally more accustomed to the arid environments of Yemen and Saudi Arabia.
Search parties, public notices and even a story of Igor's escape from it's home in Rosyth in The Courier had failed to shed light on the reptile's whereabouts.
However, startled neighbours Colin and Susan Slight spotted the chameleon walking across his garden bench on Sunday morning, 32 days after it first went missing and just 50 metres away from where it had originally escaped.
"It's a miracle he's alive and I'm so delighted," said Sharon, who now has Igor back home with her menagerie of other exotic pets including a bearded dragon, two geckos, bull frogs, horn frogs and a tortoise.
"As the days went by I did fear he had come to harm, either by injury or by being exposed to the cool climate.
"The a neighbour called me completely out of the blue to say she thought Igor had been spotted and I couldn't believe it when it really was him.
"Considering he's been out in all weathers for almost five weeks, he's hardly lost any weight so must have been able to catch insects to survive.
"He was very dehydrated though and after a check up with the vet it appears he has injured his tail, which will have to be amputated later this week.
"As bad as that sounds I'm assured he'll survive and it won't affect him too much.
"However,  I will have to redesign his enclosure so he doesn't have to climb very high in future."
Sharon was quick to thank the local community which had regularly been out searching gardens and hedges in the hope of finding the missing pet.
"Neighbours have been fantastic throughout with gangs of children often out looking for Igor and even one resident refusing to cut her grass in case he was hiding in the overgrowth.
"Everyone is delighted to see him back home safe and sound and I can't thank the public enough for their support.
"He's already had lots of cuddles and will be getting plenty of tender loving care in the coming days and weeks that's for sure."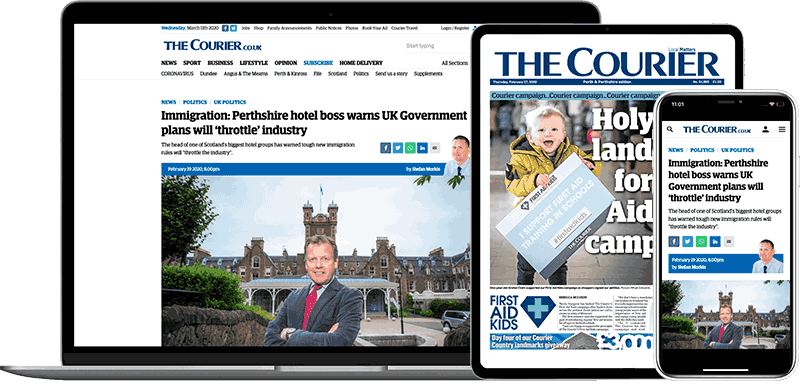 Help support quality local journalism … become a digital subscriber to The Courier
For as little as £5.99 a month you can access all of our content, including Premium articles.
Subscribe