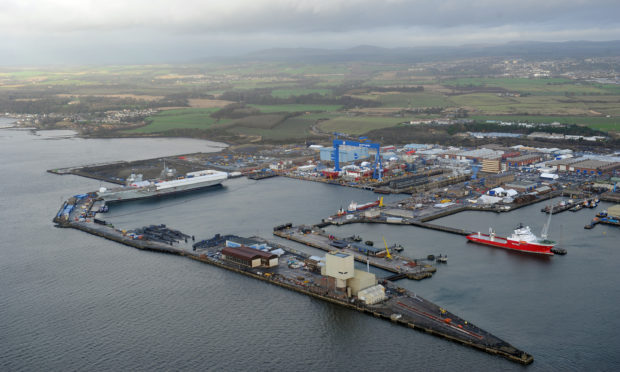 Hundreds of dockyard workers are back at work as normal, despite a Covid-19 alert at Rosyth.
Staff at Babcock International's site in Fife were sent home on Thursday after a visitor to the 300-acre facility tested positive for coronavirus.
Day and nightshift workers at the base, which has an estimated 800 engineers, were told to "stand down" in response to the news but the workforce returned to their posts the following day with bosses satisfied it was an isolated case and there has been no further spread.
However, The Courier has been contacted by one employee, who did not wish to be named, who said he and many colleagues still harbour concerns.
"Nobody knows exactly where this visitor has been on the site, what they've touched and how serious this is.
"It's all good saying people were sent home and the place will be thoroughly cleaned, but there's a chance someone might have picked up the virus and don't know it yet."
Babcock Rosyth is home to one of the largest waterside manufacturing and repair facilities in the UK and was home to the Queen Elizabeth Class aircraft carrier project, which saw two of the largest vessels ever built for the Royal Navy constructed.
A spokesperson for Babcock International said: "An individual who visited our site and is currently displaying no symptoms, has tested positive for Covid-19 and is undergoing further NHS Covid-19 testing for confirmation.
"As a precaution and following our own robust Covid-19 protocols we sent a number of staff home on Thursday July 30 to allow for deep cleaning of parts of our facility.
"This has been completed and normal operations have resumed. Test and Protect, NHS Scotland, has been made aware.
"The health and safety of everyone on our site is our highest priority and we will continue to ensure that all Covid-19 protocols and precautions remain in place."
The company said it has fully complied with the UK Government's guidance on managing the risk of Covid-19 across all its active sites in the UK.
Where the two-metre rule cannot be enforced, the firm stressed it is doing everything practical to reduce transmission risk.