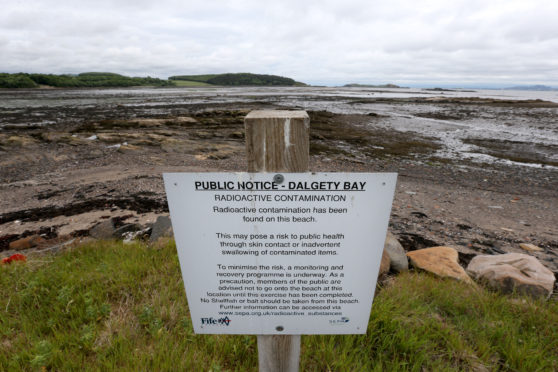 The nine-year wait for a Fife beach to be made safe from radioactive contamination will continue until at least 2021, the Courier can reveal.
The Ministry of Defence had been due to have its appointed contractor, Balfour Beatty, commence the beach clean-up in July but work has not started.
The MoD has confirmed the removal of hazardous waste from the coastline will not begin until at least April, blaming problems in securing the correct licences as well as the need to protect local wildlife, for the latest delay.
It is the latest set-back for beleaguered residents in the 11-year saga which has left the stretch of Fife coastline fenced off  after it was found to be contaminated with hazardous radium from scrapped aircraft instrument panels.
The MoD had previously said it expected the problem to have been resolved by the end of 2018.
A spokesperson said: "Every effort was made to work with our partners to begin the removal of radiological contamination at Dalgety Bay this summer but regrettably, the application for the necessary licence to the Scottish Environmental Protection Agency has been delayed.
"Work is now expected to start in April 2021 – the next available opportunity to ensure there is no disturbance to wintering birds. This is in line with Scottish National Heritage Guidelines."
News of the further delay has angered community representatives.
SNP MP Neale Hanvey, whose constituency the contaminated beach is in, said the community had a right to be furious.
"Everyone accepts that coronavirus has had an impact on all kinds of projects, but the MoD has a clear responsibility to keep the community and its representatives regularly updated about this longstanding, necessary and important work.
"They were slow to take responsibility for the contamination in the first place and have tried to shift the blame for delays. Now, we have had to pry this revised timetable out of them.
Dalgety Bay Councillor David Barratt added: "The UK Government and MoD have had years to plan for the clean up and should have been ready to go.
"The process for re-opening construction sites started at the end of May and while some delay could be expected it's hugely disappointing to find that the MoD haven't even made preparations at the site ahead of the removal.
"The community has grown tired of broken promises, poor communication and won't believe further commitments until we see well advanced works on the ground."
Mr Hanvey said he has written to Jeremy Quin MP, the UK Government Minister for Defence Procurement, to register his disappointment and to ensure commitments to remove the contamination are met.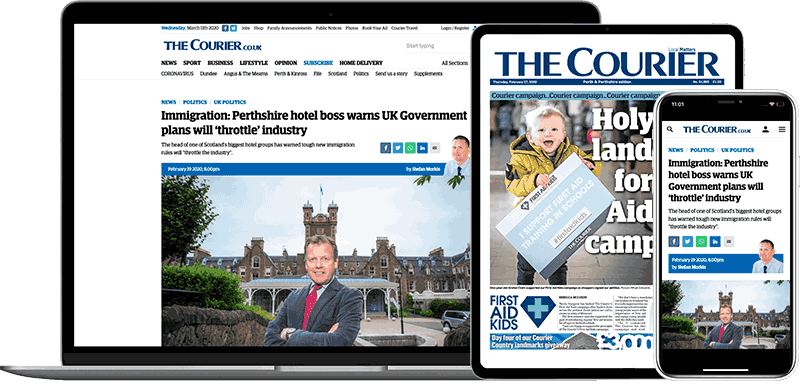 Help support quality local journalism … become a digital subscriber to The Courier
For as little as £5.99 a month you can access all of our content, including Premium articles.
Subscribe