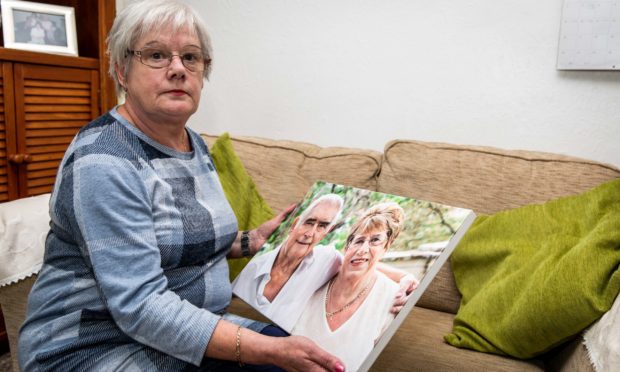 The daughter of a terminally ill Fife woman says she is "utterly devastated" by a decision to axe the hospital ward where her mother is receiving care.
Sally Kemp said there had been no discussion about what would happen to 85-year-old Rae Henderson before a vote to close the Wellesley Unit at Randolph Wemyss Memorial Hospital.
"Staff had told me it looked like they would be closing at some point but there would be consultation with patients and family," she said.
"I was shocked to read in The Courier on Thursday that it was a fait accompli because nobody has been in contact with me to discuss what's happening, about where she's going or the timescales.
"This is about dignity at the end of life and I'm utterly devastated this is happening."
Health and social care chiefs told Friday's integration joint board they had no option but to recommend the Buckhaven unit for closure, insisting its future was unsustainable due to a lack of medical cover.
They said a local GP practice that had been carrying out the work was no longer able to do so due to added pressures brought by Covid-19, so patient safety was at stake.
The partnership said there had been some consultation with patients and families and this would continue.
Patients will instead be cared for at home, in care homes or at another community hospital, while a consultation on the development of services at Randolph Wemyss will be held.
Sally, 64, said she was not convinced enough had been done to secure alternative medical cover.
"I don't think they've made any effort whatsoever, to be honest with you. Things are so uncertain for my mum.
"It's hard enough that she's receiving end of life care without not knowing where she's going.
"She feels safe and comfortable and looking after her at home is not an option as she requires 24/7 care."
Labour councillor David Graham urged a temporary closure of the unit to allow for more efforts to recruit medical cover but was told the request was unreasonable.
He said he was bitterly disappointed by the decision.
"I understand there are issues about patient safety but I wanted them to take time to look at what options there were before taking a massive decision to close the ward completely.
"It's another erosion of services and I can't believe how quickly it's been done."
Labour MSP Claire Baker said families should have been consulted.
"They have a direct stake in it and they don't know what's going to happen," she said.
NHS Fife medical director, Dr Chris McKenna said: "Medical cover has become unsustainable and this is largely because of pressures in general practice as a result of coronavirus.
"There are significant pressures within primary care just now which we need them to prioritise.
"We also recognise there are better ways of caring for this group of patients in a more homely setting.
"I acknowledge this does form part of a much wider redesign of what we want for our community hospitals."
Helen Hellewell, associate director with Fife Health and Social Care Partnership, said every effort had been made to secure sustainable medical cover but added: "There is a challenge for general practice as we move into winter and sustain the Covid response.
"Often hospital-based care for this particular group of patients is not the best thing."