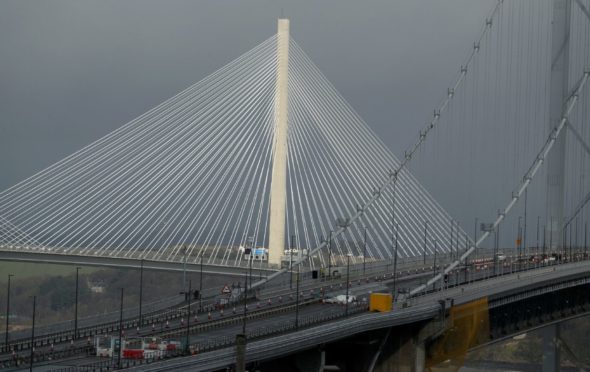 Commuters who travel to Edinburgh from Fife by road could soon benefit from shorter journey times, it has emerged.
More than £1.2 million has been awarded to local authorities in the south east of Scotland for emergency measures to primarily prioritise public transport, although all motorists should see their travel times cut by up to 12 minutes as a result.
A package of projects has been developed by the South East Scotland Transport Transition Group, which involves Edinburgh, Fife, Clackmannanshire, East Lothian, Midlothian, West Lothian, Falkirk and the Scottish Borders Councils, to improve bus journey times and reliability on some of the region's most congested routes.
While most of the schemes planned are focused on the capital, the list includes the introduction or extension of bus lanes on the A90 citybound, between Cramond Brig and Barnton, signalling improvements to ensure smoother traffic flow and enhanced bus stops at key locations.
Also planned is a temporary bus lane on A89 eastbound approach to Newbridge and a another on the A8 westbound approach to Newbridge from the airport on-slip road.
The cash injection has been hailed by Labour councillor Altany Craik, convener of Fife's economy, tourism, strategic planning and transportation committee.
"These measures, which are focused on improving bus journey times, will be welcome for the many people for whom the bus is their main mode of travel.
"I hope that in the future, other projects will be developed that make bus travel from Fife to Edinburgh quicker and more desirable.
"As partners in SEStran we are always looking to improve travel across the region."
Among the other measures that might impact visitors to Edinburgh from Tayside and Fife is the signalisation of Riccarton Mains Road roundabout at Hermiston, designed to help bus access and egress from the Park and Ride there.
City of Edinburgh Council's transport and environment vice convener Councillor Karen Doran, said: "The way we travel has significantly changed over recent months and it's clear commuting patterns won't be returning to 'normal' anytime soon.
"This funding allows us to quickly prioritise public transport into and around the region, improving bus journey times and making bus travel a reliable, attractive mode of transport as restrictions are eased."