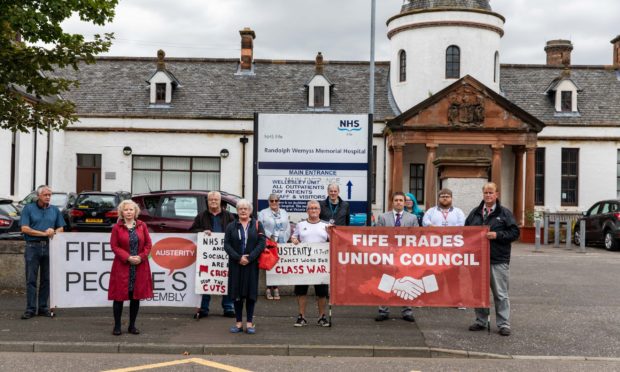 More than 1,200 people have signed a petition in a last ditch bid to save a "vital" end of life care unit from closure.
Campaign organisers said the number of signatures gathered in just two days highlighted the strength of the community's feeling against a decision to axe the 10-bedded Wellesley Unit at Randolph Wemyss Memorial Hospital in Buckhaven.
It is understood patients are already being moved from the ward and staff have received redeployment packages to work elsewhere.
Members of Fife Health and Social Care Partnership voted last week to close the unit after clinicians said patient safety was at stake due to difficulties recruiting a doctor.
The decision came as a shock to locals who had not been consulted on the move.
Labour councillor Ryan Smart, who started the petition, said it had caused a storm on social media, with locals making it very clear they did not want to lose the service.
"If the partnership had done any consultation with the community, they would have realised that before making this terrible decision," he said.
"Hopefully we can get them to reconsider and explore every option available to keep it open."
The petition acknowledges the unit cannot legally operate without a doctor but calls for the closure to be temporary until one can be employed.
Mr Smart has seconded a motion to Fife Council by fellow Labour councillor David Graham, calling on members to support the campaign.
"I'm hopeful of getting the backing of at least all of the local councillors," he said.
"I would be surprised and disappointed if they went against what the public of Levenmouth are saying.
"We cannot lose any more services in this area.
"This is a vital unit which allows local people to stay close to home in their dying days."
Fife Health and Social Care Partnership said a local GP practice which had acted as the unit's medical officer was no longer able to do so due to the pressures of dealing with Covid-19.
Director Nicky Connor said patient safety was paramount and had been the top priority when making the decision based on clinical and professional guidance.
As well as end of life care, the unit provides transitional care for patients awaiting social care provision and occasionally hospital-based complex clinical care.