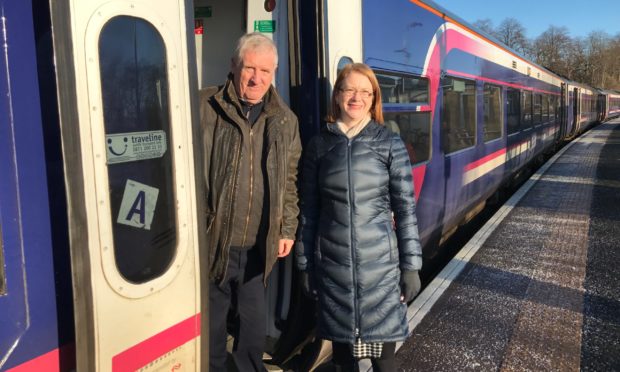 Ambitious plans to reinstate passenger trains between Fife and Clackmannanshire have moved up a gear with the launch of the next phase of development work.
Network Rail said engineers would shortly be carrying out surveys and geological investigations to help inform the project from Longannet to Alloa.
The results will help the company prepare a proposal to be submitted to Transport Scotland.
It could eventually see half-hourly passenger services on the former freight line, along with the introduction of three new stations at Longannet, Kincardine and Clackmannan.
The line would be electrified in line with the Scottish Government's rail decarbonisation agenda.
The announcement was welcomed by Dunfermline and West Fife SNP MP Douglas Chapman, who led a campaign to have the rail link restored.
He believes there is scope to eventually extend the line to Dunfermline and link it to the Fife Circle and the east coast mainline.
"The work now being proposed by Network Rail to connect through from Alloa to Longannet will open up important economic opportunities and boost connectivity for Fifers as well as allowing tourists to access the hidden gems and historic sites that pepper this route," he said.
"With a firm focus on a green recovery and bolstering economic opportunity post pandemic, west Fife has an important part to play in the Scottish Government's rail decarbonisation plan.
"The new rail research hub at Longannet and investment from Spanish engineering company Talgo in manufacturing electric trains for domestic and global use places this constituency at the heart of exciting developments in our wider ambitions for zero emission travel.
"While this announcement covers the first stage of the line's redevelopment I am confident that further work can be done to look at how we link and upgrade the line from Longannet, through the west Fife villages and beyond into Dunfermline and linking up with the Fife Circle and the East Coast mainline."
Network Rail said the next phase of work would include surveying, drilling boreholes, sampling ballast and extracting samples to assess the condition of the ground under the railway.
A variety of equipment including boring rigs and drills will be used along the seven-mile line with work ongoing until the end of the year.
Graeme Stewart, from Network Rail, said: "While it is still at a very early phase, there are ambitious plans to expand the railway and develop transport options that improve connectivity between towns in Clackmannanshire and Fife.
"Our site and geological investigations will help inform the design and development of an enhancement project which we will submit for review to Transport Scotland."