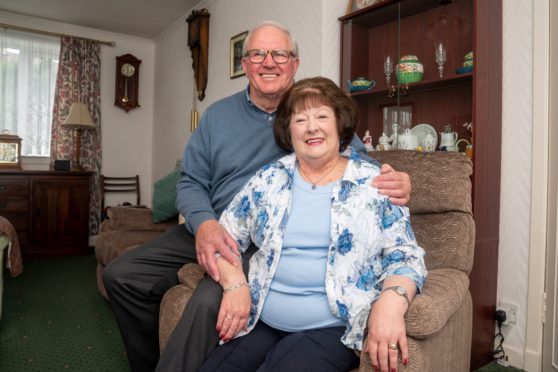 A kind hearted couple who stepped in to care for a collapsed holidaymaker after he fell ill have been found, thanks to The Courier.
Stewart Boyle was determined to find the good samaritans who gave him first aid and comforted him after he collapsed on a visit to Kilconquhar while holidaying in the Kingdom two weeks ago.
He and his wife Rhona, who are regular visitors to their caravan at St Monans, were hopeful Courier readers would help find the couple so they could say thank you in person.
Now readers have identified the quick thinking pair as Leven residents Jim and Sylvia Gordon.
And it turned out Stewart could not have been in more capable hands, since Jim is a rained first aider and a former ambulance service employee.
Jim said he had wondered how Stewart was recovering and was amazed when a family member called him to say he was sure he was the man in question.
"I couldn't believe when I got a call from my brother-in-law telling me about the newspaper story," he said.
"I retired from the ambulance service over 30 years ago but as a first aider I just wanted to help the man who had suddenly felt ill and fainted.
"Both myself and my wife Sylvia gave simple first aid as well as making  sure he was comfortable while his wife went off to fetch the car.
"We had been chatting with the couple beforehand but because the incident had happened very quickly we had wondered if he was okay.
"It's great to hear Stewart is feeling much better, that was always our main concern."
Stewart, 73, from Mosspark in Glasgow was delighted the search had proved a success.
He said: "I can't thank the newspaper enough for tracking down Jim and Sylvia as we want to be able to say thank you to them in person for what they did for us that day.
"We're hugely grateful for their help and will be giving them a call now that we have their contact details.
"We visit Fife regularly so we might even be able to meet up with them again, hopefully with a little less drama, to say thank you in person."