More than 400 potholes need repaired in Fife with wait of up to 12 months for council response
More that 400 potholes are awaiting repair across Fife and some might not get mended for months.
Fife Council's cut off for carrying out pothole repairs on isolated roads is 12 months after the authority moved to a system whereby holes assessed as posing a danger to road users are prioritised.
At a recent council meeting it was revealed 409 potholes were in need of repair across Fife.
VIDEO: 'Worse than ever': Does this notorious Fife road have our area's worst potholes?
Liberal Democrat councillor Tim Brett, who raised the issue, has counted 15 potholes on a rural road off the A92 in north Fife and said because the route experiences little traffic they are low priority.
"That's not to say it will be a wait of 12 months, but it will be at some point in the next 12 months.
"Under the previous system every pothole was done within five working days but now there is a prioritised system."
Labour councillor Altany Craik, who is convener of the economy, tourism, strategic planning and transportation committee, maintained timescales for tackling potholes had not been relaxed.
"Not all are equal priority. This includes a variety of risk levels with different timescales of response, ranging from 24 hours to 12 months.
"Emergency potholes and ones that are classed as dangerous are still treated within 24 hours as normal. There's no relaxing on the time of that."
He added: "Due to the national lockdown, there was a significantly reduced level of activity from reports and road inspections were only prioritising the highest risk pothole repairs."
Mr Brett asked for figures on how many potholes have been filled in during the first six months of 2020, compared to last year.
Mr Craik said the figures would not be accurate as the council had changed to a new electronic system.
Councillor David Dempsey, leader of the Conservative group in Fife, has made repeated calls for more council funding to be used tackling road defects.
It is understood, prior to lockdown Fife Council, was liaising with North Lanarkshire Council, where an agreement has been reached with road operator Amey over road repairs, with the aim of finding out how such a scheme could benefit Fife.
The talks were put on hold as a result of the pandemic.
Mr Dempsey said: "The council doesn't put enough money into road repairs and that's the bottom line. The way out of all this is doing something innovative."
Meanwhile, a FOI request revealed motorists had a one-in-four chance of winning a pothole claim in Fife.
A successful claim had an average payout of £276 in the last financial year, but this has now dropped to an average payout of £200.
The FOI request was submitted by Scott Dixon, a consumer expert based in Edinburgh who specialises in motoring disputes.
Mr Dixon submitted another FOI request in July after a Dunfermline woman's £1,100 pothole claim was rejected by the council.
"Fife Council taxpayers deserve much better than this," he said.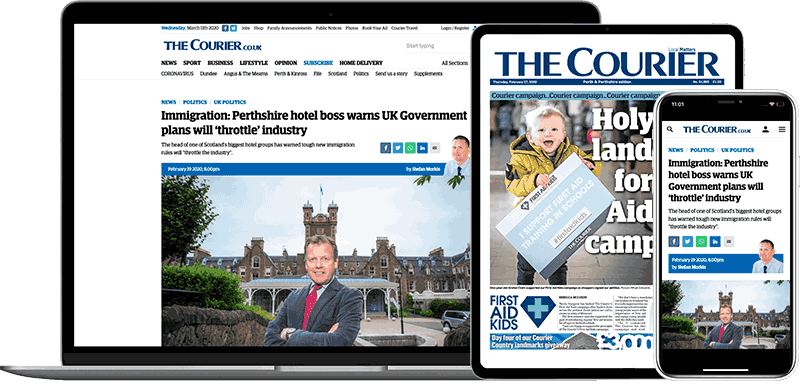 Help support quality local journalism … become a digital subscriber to The Courier
For as little as £5.99 a month you can access all of our content, including Premium articles.
Subscribe