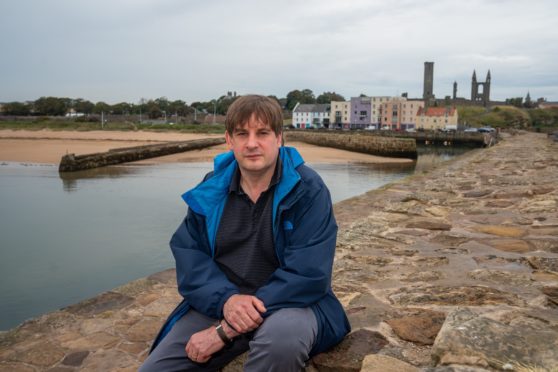 The search is on to find new volunteers who will help protect and promote the heritage of one of Fife's oldest harbours.
St Andrews Harbour Trust is appealing for suitable candidates to fill three new trustee posts as part of ambitious long-term plans to preserve the historic nature of the town's ancient harbour and seek ways of maximising its commercial, tourist and leisure potential.
Trust chairman, Dr Andrew Whiston believes the harbour, which dates back to medieval times when it played a crucial role in the prosperity of Kilrymont, long before it became St Andrews, still has huge untapped potential.
Today the 18th to 20th century extensions to the North and Cross Piers form the outer and enclosed inner harbours, which are home to a small, but growing, flotilla of pleasure craft and fishing vessels.
"We are the custodians of something that has existed for hundreds of years and it's our duty to preserve that history for many future generations to come," said Andrew.
"But as traditional avenues of funding Fife Council continue to disappear the trust will need to become increasingly creative in finding the revenue needed to not only secure the harbour's long-term future, but to explore ways unlocking some of its potential.
"That's why we are looking to recruit three new trustees with skills that will help us achieve the trust's long-term vision.
"As well as managing the day-t0-day activities and maintenance of the Grade-A listed harbour and catering for the needs of the commercial and leisure craft, the trust has ambitious facilities."
With a burgeoning East Neuk tourism industry largely untapped by the harbour, Andrew believes the historic site could become a magnet for visitors and provide vital revenue needed to further enhance facilities.
A number of unused buildings could be brought back into use, while additional facilities to go with the £250,000 pontoons which were installed for visiting craft, are just a couple of the opportunities currently being explored.
"Ideally we are looking for people with experience in business or property development, project management or charitable fundraising that will bring skills to the group," said Andrew.
"But above all they must demonstrate a desire to want to see the harbour thrive and achieve its true potential."
Interested parties have until September 30 to submit applications. To find out more about becoming a trustee email harbour.ops@standrewsharbourtrust.org