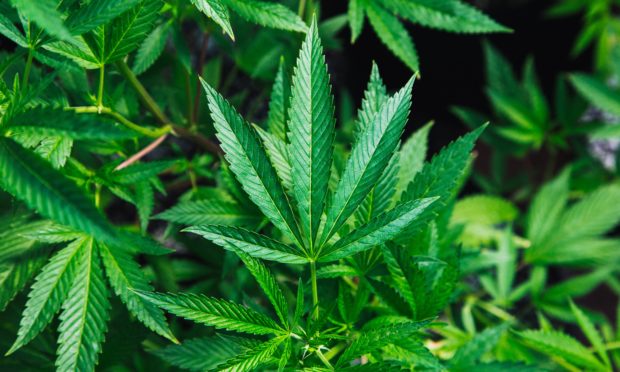 A man has been jailed for 18 months after he was discovered in a house in Dunfermline with £93,600 worth of cannabis plants.
Police found Pham van Hoang, 24, at a property in the town's Keir Hardie Terrace that was being used as a cannabis plantation in September last year.
Hoang pled guilty to being involved in the production of a controlled drug, and was sentenced at Kirkcaldy Sheriff Court on Wednesday.
Depute fiscal Ronnie Hay said Sussex Police had been conducting a major modern slavery and human trafficking investigation relating to two Vietnamese nationals who were not linked to Hoang's case.
The "slaver" in that probe was arrested and police found the individual had visited Keir Hardie Terrace.
Police Scotland was asked to conduct safety and welfare checks on the house's occupants to establish if any were the victims of modern slavery or human trafficking.
When detectives knocked on the door on September 20, 2019, Hoang answered and was caught as he tried to leave the scene.
"It was quite apparent that there was a sophisticated hydroponic system that extended into the attic area," Mr Hay said.
Police discovered the cannabis cultivation extended to three bedrooms on the first floor and the loft space of the property.
Around 350 plants were found. There was also evidence of plants that had previously been harvested, while a number of envelopes containing sums of cash ranging from £100 to £725 were discovered in the house.
The cannabis cultivation had a total street value of £93,600.
Hoang has been in custody since September 23 last year.
On Tuesday, defence solicitor Chris Sneddon said it was his client's position he was a victim of human trafficking, but Mr Hay said the Crown did not accept that.
When the case was called again on Wednesday it emerged that Hoang, who is an illegal immigrant and has applied for asylum, was subject to a Home Office investigation to determine whether or not he has been trafficked.
Mr Hay said if it turned out he was a victim of trafficking it was "highly likely" court proceedings would be dropped.
However, Mr Sneddon said it was not his intention to withdraw his client's guilty plea.
Following a prolonged discussion, the case was resolved with Hoang's conviction for cannabis production.
Highlighting the fact that the house was well-stocked, Mr Hay said Hoang and another person living there were healthy and had good quality smartphones.
Sheriff James Williamson challenged the fiscal on that point, noting: "The idea that people who are human trafficked are forced to live and work in squalor is not always right."