Retired Kinghorn couple James and Anne Carlaw say they have been put under extreme stress as they try repeatedly to book their flu jabs.
Thousands of Fife's over-65s have been told to stop phoning a swamped flu jab hotline to allow staff to deal with a huge backlog of calls.
NHS Fife apologises as swamped flu jab hotline deals with huge backlog
NHS call handlers are working through around 2,000 patients who have already tried to get through to the dedicated phone number to book appointments for a vaccination.
Many more have attempted to book via email and text message and have been warned it could take days or even weeks to get back to them.
The pair, both in their 70s, made up to 50 attempts to speak to a call handler and have written to First Minister Nicola Sturgeon to outline their fears and frustration.
They said they had done everything asked of them during the pandemic to keep themselves and other safe and had not expected further anxiety to be caused by a system designed to help them.
"I thought my anxiety levels had peaked with the pandemic and then someone goes and makes it worse," said James.
"The frontline NHS service and staff have been marvellous but the administration and organisation has been wanting."
The former construction worker is angry after continually coming up against a recorded message saying phone lines were busy.
"I'm prepared to take the flu jab to save the NHS but I think the NHS need to save themselves," he said.
"Who sends out 75,000 letters and doesn't expect to be deluged with phone calls, especially when they've stood up in parliament and told everyone they should get their flu jab?
"If we get Covid and flu we may as well pull the lid of the box shut."
Anne, a retired biology teacher, said she and James had not seen family for months and were preparing for the prospect of spending Christmas themselves for the good of the country as well as for their own sake.
"We want to have a positive attitude and feel as though we're doing positive things but we cant," she said.
"We are frightened and now extremely stressed and annoyed that we can't even book an appointment .
"We are getting platitudes when we just want our jabs."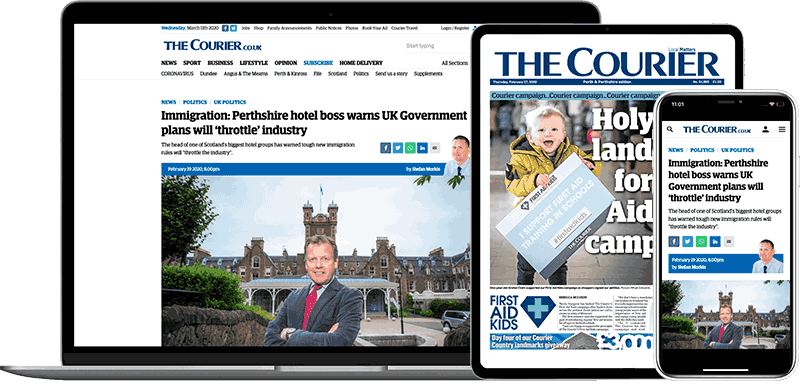 Help support quality local journalism … become a digital subscriber to The Courier
For as little as £5.99 a month you can access all of our content, including Premium articles.
Subscribe