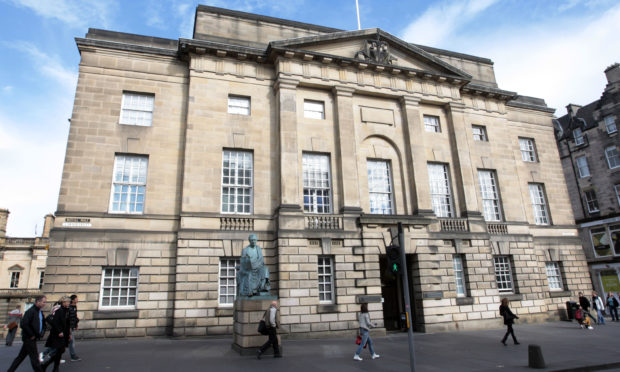 A drink and drug fuelled knife attacker who stabbed a stranger trying to act as a peacemaker was jailed for four and half years today.
Rhys Marshall struck his victim twice with the weapon, leaving him with injuries that posed a potential threat to his life.
A judge told Marshall at the High Court in Edinburgh: "Your victim and his brother were engaged in an argument with a neighbour which was nothing to do with you but you decided to intervene."
Lady Scott said: "You have a serious problem with alcohol and substance abuse, particularly valium."
The judge told Marshall, 26: "Your violence has been significantly escalating and you have now used a knife which brought you before this court."
Lady Scott said she was satisfied that Marshall, who has previous convictions for assault, "presented a high risk of harm to the public".
She ordered that he be kept under supervision for a further two years and told him he would have faced a six-year jail term, but for his guilty pleas.
Unemployed Marshall, formerly of Maple Gardens, Methil, in Fife, earlier admitted assaulting Colin McNeill on December 6 last year at Alexander Street, East Wemyss, Fife, to his severe injury, permanent disfigurement and to the danger of his life by struggling with him and repeatedly striking him on the body with a knife.
Advocate depute Leanne McQuillan said 33-year-old Mr McNeill was at home watching TV when he heard raised voices and realised his brother was arguing with a neighbour.
She said Mr McNeill intervened and placed his hands between them "in an attempt to calm the situation down".
She told the court: "The complainer then became aware of the accused, who was not known to him, placing his hand on his shoulder."
"The accused asked the complainer 'who the f*** are you?' to which the complainer replied 'who the f*** are you?'. The complainer pushed the accused backwards."
"There was a struggle between them during which the complainer felt two 'digs' to his left side. He initially believed he had been punched," said the prosecutor.
She said Mr McNeill felt "quite funny" and when he put his hand to his left side felt wetness and realised he was bleeding. He shouted "You've stabbed me. I've been plugged."
Marshall ran off and Mr McNeill tried to chase him but began to feel faint and went back to his flat. An ambulance was called.
Paramedics attended and realised the victim had two puncture wounds to his lower chest and the left side of his back.
He was taken to hospital in Kirkcaldy and the wounds were cleaned and stitched before he was discharged.
In the early hours of the following morning Marshall was in a vehicle that was stopped by police at a BP garage in Windygates Road, Leven, in Fife.
He became aggressive and struggled with police constables Jenny Walker and Duncan Shand, trying to punch, kick and spit at them. Leg restraints and a spit hood were placed on Marshall who continued to shout and swear.
Ms McQuillan said: "He said 'I will stab you both and kill your bairns'. He uttered further threats that he knew where they lived and he would kill them and their families."
Marshall also pled guilty assaulting the officers on December 7 at Windygates Road, Leven.
Defence counsel Michael Anderson said Marshall had "a pretty grim upbringing" and had been dogged by substance abuse.
He said on the day of the knife attack Marshall was under the influence of drink and had also taken valium.