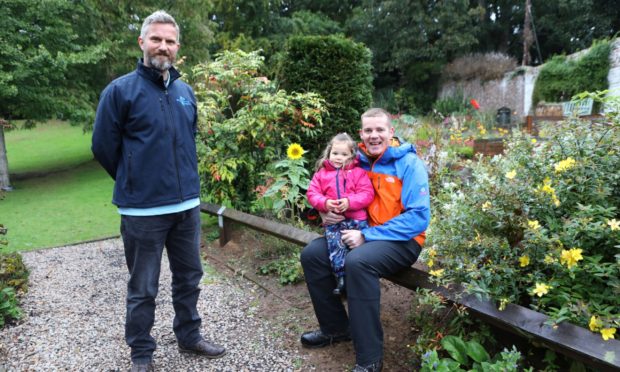 A fundraising drive to transform a derelict flax mill into a state-of-the-art visitor centre has been given a boost thanks to two generous contractors.
Workers at Silverburn Park in Leven have donated their fees to the bid to raise £200,000 towards the £7.5 million project, which will also include arts and crafts studios, a cafe and a 27-bed backpackers' hostel.
Further funding will come from other sources, including the National Lottery.
Leven plumber Ross Moreland handed over his fee of more than £900 to volunteers after plumbing in the new shower block at the park's newly-refurbished campsite.
Graham Halsey, of Cornwall-based company Well Working Matters, also donated the £500 he was due for his work with Fife Employment Access Trust (FEAT), which has been responsible the park's upkeep over the past six years.
Almost £3,000 has been raised since the Crowdfunding page was launched a fortnight ago.
Ross said: "I spent countless hours there as a child and it enthused me to get into walking, camping and cycling as an adult.
"Nobody ever asked me for anything when I went along and played there so I asked if there was anything that needed to be done to help them out.
"I thought it would be a nice gesture to give something back and hopefully it will support the park and encourage other youngsters to enjoy the outdoors."
In a further show of support, FEAT chief executive Duncan Mitchell will gift half the takings from the park's café to the fund this month.
He said: "We are so excited that the plans we have dreamed about since we took on the lease in 2014 are finally starting to come together and also that people are kindly supporting it.
"There is still a long way to go though to reach the £200,000 needed to help the park gain its £7.5m visitor centre.
"Everyone can make a difference, even just by buying one of our coffees or home-based cakes at the Cottage Window Café."
The flax mill is due to open in Easter 2025 and is expected to be the centrepiece of the 27-acre estate.