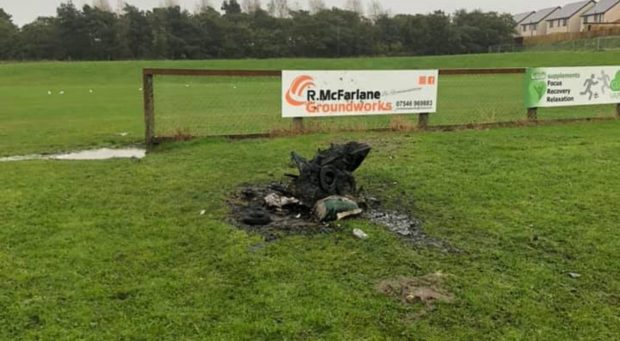 A Fife amateur football club has been left counting the cost after vandals caused hundreds of pounds worth of damage to their home ground.
The thugs hauled down advertising hoardings around Lochgelly United's Moore Park pitch at some point on Friday evening before setting fire to them in a wheelie bin at the entrance.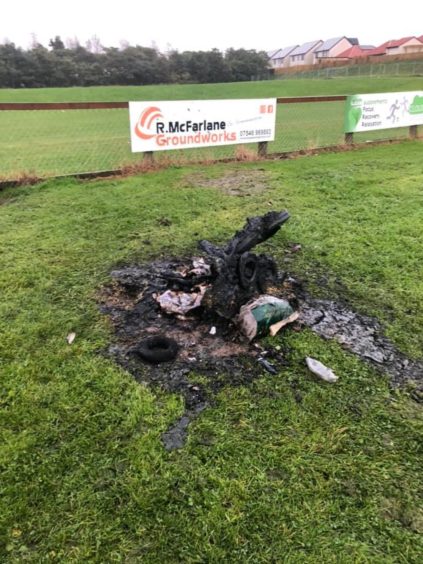 The club is now considering beefing up security, amid growing concern about  anti-social behaviour in the area – especially at weekends.
A club spokesperson said the latest incident was "disheartening and frustrating" and admitted it felt like volunteers were "fighting a losing battle".
"We are going to look in to fitting CCTV and what is required to allow us to do that," the spokesperson said
"We fully understand kids will be kids and accept that we may need to clean some mess from time to time but the vandalism is a step too far for our club and we feel it's time to take this further.
"Hopefully we can engage with local councillors regards this ongoing issue.
"The police have been informed and hopefully there is some sort of progress made."
The club has been hut by a number of incidents in recent years, most notably in 2017 when fencing at Moore Park was severely damaged and coaches and local supporters rallied round to carry out repairs.
The club's coaches stepped in again over the weekend to clear up the mess left behind in this instance, and moves are already afoot to replace the damaged advertising boards with several local companies offering practical and financial support.
Residents have raised concerns about the actions of youths more generally in the area in the last few weeks.
One mum, who did not want to be named, said their behaviour was on a "downward and dangerous spiral."
"Last week they were in the Witches' Wood setting pillows and newspapers on fire," she said.
"And on the run up to this (the damage at Moore Park), they were smashing beer bottles filled with urine all over the skateboard ramp whilst the younger kids played on it.
"This isn't the first time either, and it's all going unpunished and ignored."
Anyone with information about any incidents in the area should contact Police Scotland on 101, or club officials.