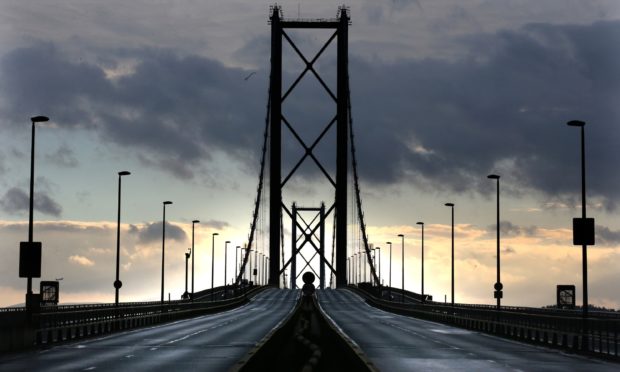 Two thrill-seekers who travelled from London to climb the Forth Road Bridge have been hit with heavy fines.
Owen Kelly and Usamah Quraishi, self-styled urban explorers, are well-known in the world of parkour and free-running.
However, their dare-devil antics in Scotland saw the pair branded "the most stupid and irresponsible individuals" to have appeared at Dunfermline Sheriff Court in recent times.
Kelly and Quraishi walked on a public footpath to the middle of the bridge then climbed over the barrier on to a central cable, walking up to the top of a tower, more than 500 feet above the water.
Traffic on the bridge was stopped, police were called and the pair used their free-running skills to evade the officers, clambering under the bridge.
Owen Kelly, 19, of Selbourne Avenue, and Usamah Quraishi, 20, of Adare Walk, both of London, appeared in the dock at Dunfermline Sheriff Court in connection with the September 5 stunt.
They admitted they climbed on to the structure, then up a bridge tower, causing fear and alarm for their safety, the safety of bridge users and police officers. They also committed a breach of the peace.
Depute fiscal Jill Currie said four people were initially spotted on CCTV by bridge staff walking along a footpath, which was closed to the public, at around 8pm.
Kelly and Quraishi jumped over railings on to a main cable and then walked up to the top of a tower.
Bridge staff put the traffic lights to red to stop vehicles and police were called.
Officers arrived at 8.20pm and the pair climbed down from the tower. They ran off and managed to evade officers by using cables under the bridge.
They were later found after being followed on CCTV cameras to Dalmeny rail station.
James Moncrieff, solicitor for Kelly, said his client was on holiday in Scotland at the time.
"He made this decision to climb up the bridge which was a particularly stupid thing to do," he went on.
"He apologises for the inconvenience he's caused through this youthful exuberance. He wanted to film himself climbing up on the bridge."
Alexander Flett, for Quraishi, said he was student of architecture and design and lives with his parents.
He added, "This was clearly a foolish thing to do. It was foolish escapade but a brief one. It only lasted a few minutes."
Sheriff James Macdonald told the pair: "I can say that you two are the most stupid and irresponsible individuals to have darkened the doors of this court for some considerable time."
He pointed out that the emergency services had to be contacted and police officers were called to deal with their actions.
The sheriff went on: "I could have been dealing with a tragedy rather than something with a dark element of comedy to it but you will not be laughing when I've sentenced you."
He fined the pair £1,040 each.
Quraishi is a YouTuber with 139,000 subscribers who follow his antics on video as he travels around Europe climbing up tall buildings, usually after gaining access illegally.
He has been banned by courts from towers at Canary Wharf and also from Chelsea's Stamford Bridge stadium after repeatedly trespassing there to climb and make videos.
He also once climbed to the top of the Big One rollercoaster at Blackpool.
Kelly has previously appeared in court in London after "train surfing" on the Dockland Light Railway and filming the escapade.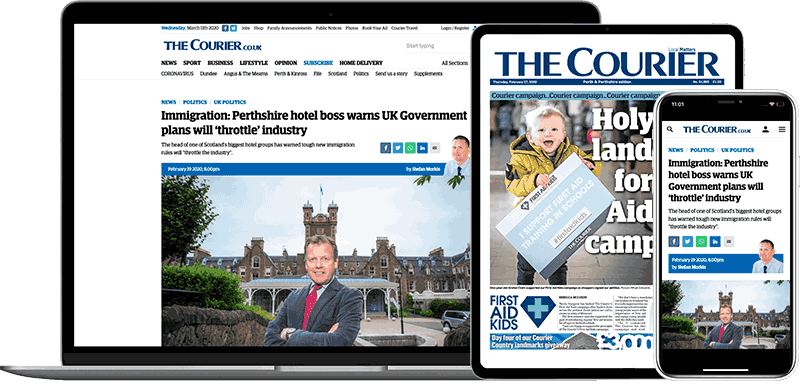 Help support quality local journalism … become a digital subscriber to The Courier
For as little as £5.99 a month you can access all of our content, including Premium articles.
Subscribe