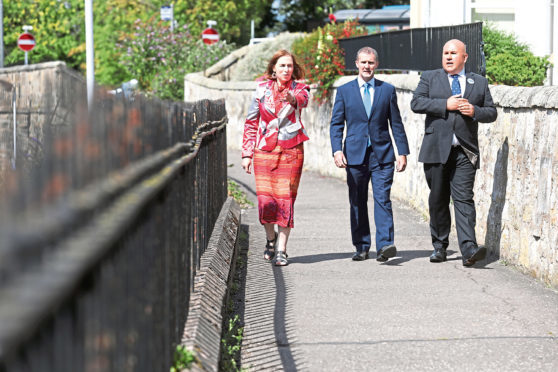 A list of options to improve transport links to and from St Andrews is to be considered in more detail after the case for change was approved by Transport Scotland.
The return of heavy rail to the Fife town for the first time since the 60s is one option on the table.
The use of light rail and a possible park and ride site along the A91 are also on the cards.
It follows research by transport consultancy Stantec, as part of the Scottish Transport Appraisal Guidance (STAG) process.
The study has been welcomed by campaigners who have been pushing for the reinstatement of passenger services for decades.
The St Andrews Rail Link (StARLink) campaign said poor links at present meant a range of transport-related problems for those travelling to and from the town.
"All travel is road-based and the overwhelming majority of journeys are not taken by bus but by car," said a spokesperson.
"Investing in improved transport links to St Andrews and improved transport arrangements within the town will help the town and Scotland's visitor profile keep pace with its international competitors, whilst improving the visitor experience and quality of life for local residents."
The spokesperson went on: "Transport Scotland's acceptance of the Case for Change is an acknowledgement that the status quo is not an option – and indeed the vulnerability of St Andrews due to essential roadworks and the increased influx of cars consequent of COVID-19 restrictions have confirmed that the St Andrews transport system is inadequate."
The 179-page report looks at various measures such as fully segregated cycle routes between St Andrews and Leuchars, where the nearest train station is sited; possible improvements to bus and coach transport; and town centre traffic management improvements such as reduced on-street parking, pedestrianised areas and expanded charging areas.
It raises the possibility of a hybrid heavy/light rail option which would see a heavy rail route run to St Andrews to a station near the university, and a light rail extension to the town's bus station and beyond to the Botanic Gardens and an A91 Park and Ride facility.
That would use Tramtrains – light rail vehicles that can share mainline railway lines with conventional heavy trains, and are seen as a much more cost effective option.
Mark Ruskell, Mid-Scotland and Fife Green MSP, has welcomed the report and praised STARLink and the community for their efforts so far.
"It's clear there is a growing traffic problem in St Andrews, and a rail link would be one of the most significant ways to get many of these cars off the road," he said.
"Visitors the world over come to enjoy the town's ancient streets, beaches, and golf courses, not dodge traffic or battle for parking spaces. The case for change report shows small tweaks like more buses simply don't cut it when it comes to making the town a better place to walk, cycle, visit and live."