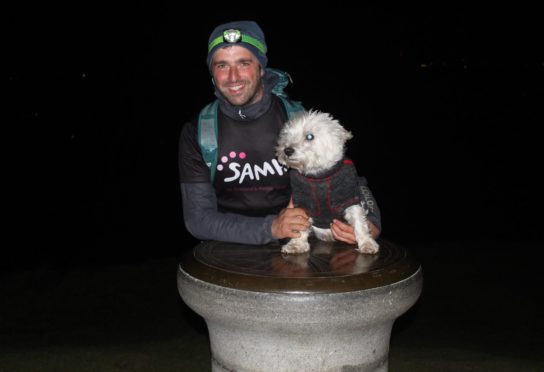 A keen hiker from Glenrothes has become the first person to scale Fife's 10 highest peaks in a single day after completing the gruelling 31 mile trek in aid of charity.
With his pet Westie, Dex, by his side and supported by his father on the final two climbs, Ross Cunningham finally reached the top of East Lomond in the early hours, 18 hours after he started out on his epic against-the-clock challenge.
The energy-sapping achievement has already raised more than £1,500 for the Scottish Association for Mental Health (SAMH).
Ross, 34, used hiking to help overcome depression and now regularly encourages others to get active as a well of improving their mental health.
He reckons he might be the first person to scale the 10 highest hills in Fife – Benarty Hill, Saline Hill, Knock Hill, Largo Law, Norman's Law, Lumbennie Hill, Cairnie Hill, Mount Hill, West Lomond Hill and East Lomond Hill, a total height of 3,700 mtrs.
"I certainly can find any evidence that it's been done before and actually took a fair bit of planning to build a route that would allow me to complete them within 24 hours," explained Ross.
His efforts were in support of the annual Murrayfield Stadium Stomp, which normally involves fundraisers climbing up and down the steps of the famous sports stadium in Edinburgh.
It has been made a virtual event because of the oronavirus crisis.
Ross recently completed a similar challenge in his own home during lockdown, where he used the stairs in his to climb the equivalent of Scotland's three highest mountains, including Ben Nevis.
"I'm an experienced hiker so was desperate to find something in Fife that would tie in with Stomp and then hit on the peaks idea," said Ross.
"At first I couldn't find out much and certainly there wasn't any sort of pre-determined route which makes me certain it's something that hasn't been attempted before."
Starting out at Benarty Hill, Ross worked of a well-rehearsed plan that would get him up and down the peaks and across by car to the next hills further afield.
"My mum walked and my dog, Dex walked the first one and my dad was on hand to accompany me up the final two which was great and a real moral booster at the end as I was pretty tired by the end," said Ross.
"Who knows, now it's out there that there's a route to ten Fife peaks, it may become a thing amongst hikers," he laughed.
"Most importantly it's raised a few much needed pounds for a worthy mental health charity, whose work has become more vital than ever during such difficult times we are currently living through.
Anyone wishing to make a donation can do so by going to:
https://samh-virtualstomp.blackbaud-sites.com/fundraising/ross-cunningham-10-fife-hills-in-24-hours